2018 CCI PHD Open House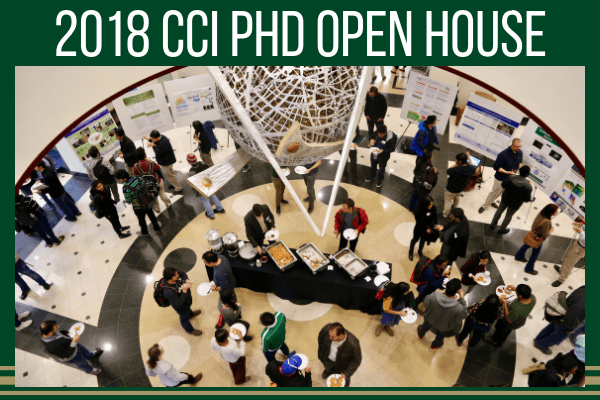 On Friday, October 26th, UNC Charlotte's College of Computing and Informatics (CCI) hosted its 2018 Ph. D. Open House. Drawing more than 50 prospective candidates from as far away as Berea College in Kentucky, the recruiting event was equal parts informative and social, fun and focused. Championed by Dr. Min Shin, CCI's Assistant Dean overseeing Research, the open house featured distinguished speakers, panel discussions, a poster presentation by current CCI faculty as well as food, music and refreshments throughout the day. "Research excellence is at the heart of CCI's innovation," Shin says. "That excellence is only possible through the hard work of our Ph.D. students."
According to Shin, CCI intends to build the strongest, most consistent Ph.D. pipeline by leaning on a network of powerful alumni, business partners and faculty relationships.
The Ph.D. Open House was a showcase of that vision and its potential results are many.
"We were able to show off the pride we feel in our innovative culture and achievements," Shin says, "and give prospective students a glimpse of what it is like to pursue a Ph.D. at CCI." The hope is that more students will consider pursuing a Ph.D. and when they do, CCI will be their first choice.
A goal that is secondary, but perhaps no less important than attracting new students, comes in encouraging CCI alumni to give back, participate and become stronger ambassadors for their alma mater.
One alumnus who spoke at the event, Dr. Hui Wu, now a researcher at IBM, says, "I was very proud to come back and share the career path, for which CCI prepared me," she says. "At CCI, I worked with people from diverse backgrounds, which provided me valuable learning opportunities to develop different ways of thinking and communicating with each other."
Within a day of the event, Shin received a number of notes and from attendees, grateful for the experience. One such note came from current CCI Computer Science undergraduate student, Megan Coyle, who wrote:
I wanted to reach out to you and express how much I enjoyed the open house. It was wonderful to hear from alumni about their experiences during and after the Ph.D. program. It was very insightful to listen to their stories, discoveries, and advice.
With a few days to reflect, Shin was still excited about the event and thankful to its team of organizers, especially Dr. Patrick Madsen, director of University Career Center, whose job it was to make the panels fun, engaging, and informative.
Asked if the CCI Ph.D. Open House is destined to become an annual event, Shin said, "Absolutely!"
For more CCI News, Notes and Updates, Follow Us on Twitter @UNCC_CCI.