2018 Fall ICP Showcase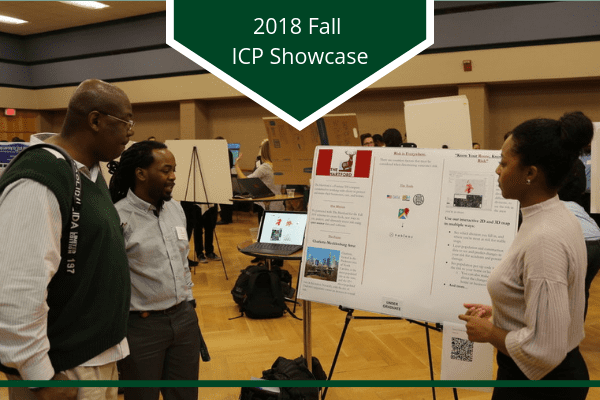 On December 6, business partners, faculty, staff and administration from UNC Charlotte's College of Computing and Informatics (CCI) gathered in the Cone Center's Lucas Room for the poster presentation of more than 50 Innovative Computing Projects (ICP) by CCI graduate and undergraduate students.
Tackling real-world problems with the creative application of emerging technologies and fresh perspectives, student teams worked directly with CCI Business Partners, mentors and advisors on topics as varied as deep learning for computer games and stack overflow tag automation to social media for an aging population of technophobes and an app to centralize campus events calendars.
By day's end, three projects emerged and were recognized as the semester's best.
Recognized for having the top ICP presentation – and each receiving a $50 Amazon gift card – were undergraduate students Addrianna Graves and Dana White. Working with The Hartford, Graves and White evaluated the efficacy of auto insurance risk models based on where drivers live and daily driving habits.
For all of its participants and partners, the ICP Showcase was a success and will continue to grow as students push beyond classroom theory and explore the practical application of what they are studying.
For an album of photos from the event, CLICK.
For More News, Notes and Updates, Follow Us on Twitter @UNCC_CCI