2018 REU Poster Showcase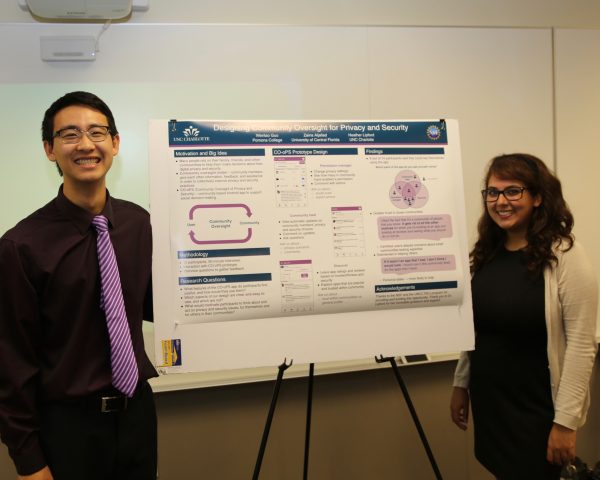 UNC Charlotte's College of Computing and Informatics (CCI) Research Experiences for Undergraduates (REU) offers undergraduate students a state-of-the-art learning experience in the infrastructure of cyber-physical systems and the applications and interactions that are enabled by that infrastructure. The program immerses students in a truly collaborative research community. Students acquire research skills through training sessions and experiential, hands-on learning and are active contributors to a community of practice that includes faculty, graduate students, and peers.
Each summer, as a Socially Relevant Computing REU site, invites students from all over the country to participate in a nine-week summer research program. This year, 16 students collaborated on projects with 11 faculty members in the Human Computer Interaction, Visualization, Vision and Image Analysis, Security, and Cyberphysical Systems labs.
"The program provides students with an outstanding introduction to computing research, and an opportunity to use their skills to add new knowledge to the world," said REU Site Program Director, Dr. Heather Lipford, who was particularly impressed with this year's class. "We had an incredible variety of research projects in this year's program, with more students and faculty than ever," she said.
The presentation of project posters took place on July 27. Though just three earned special recognition from a panel of judges, each showcased the innovative thinking of students and faculty mentors alike.
If you would like to learn more about CCI's REU program, click to visit site.
For more News, Notes and Updates, Follow Us on Twitter @UNCC_CCI
The Projects and Presenters:
1st place:
Zaina AlJallad and Wentao Guo
Designing Community Oversight for Privacy and Security
Mentor: Heather Lipford
2nd place:
Sybrina Outhay
Inspiring Human Curiosity through Models of User Preference and Surprise
Mentor: Nadia Najjar and Mary Lou Maher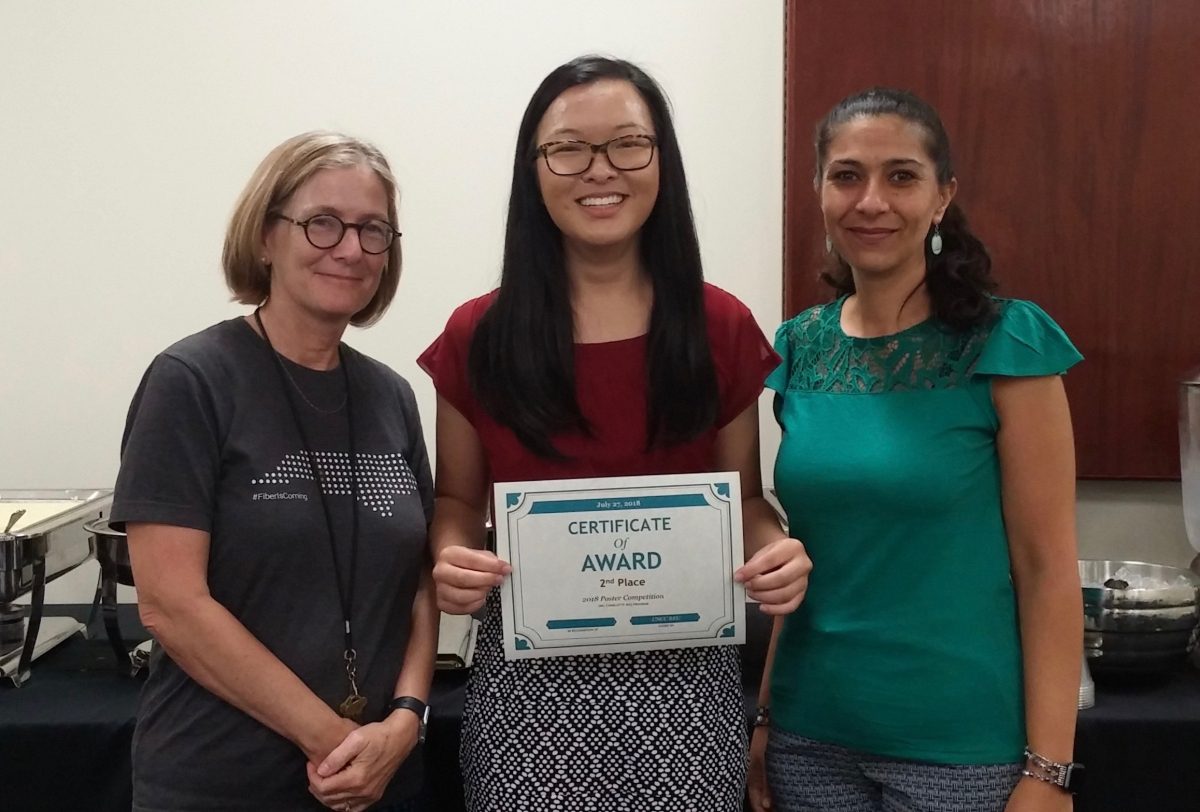 3rd place:
Emily Tracey
Senso Novium: A Gesture Recognition Addition to Assistive Devices
Mentor: David Wilson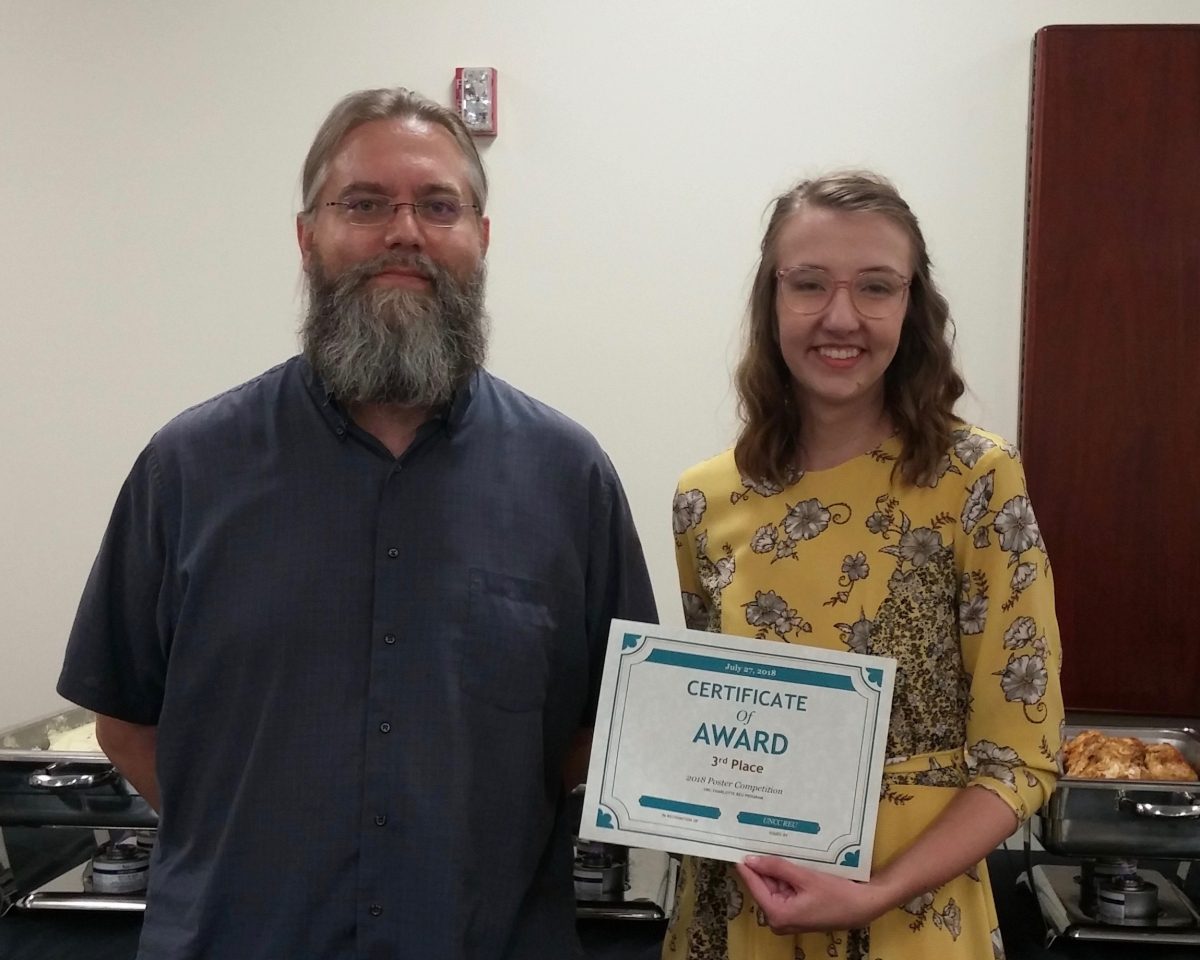 Heena Kwag
Fundamental Attribution Error in Virtual Reality

Ethan Mines
How do you feel? Making Chatbots Emotional

Mariam Bello-Ogunu
Evaluating the Effectiveness of the Sense-Making Curve Tool in Quantifying and Visualizing Cognitive States and Interaction Dynamics

Dilan Chudasma It's All in the Wrist:
The addition of a prosthetic wrist to open source designs

Dawson Heide, Kerwin Mercado, Mark Powers
Programmable Platform for SDN Wireless Networks

Benjamin Poole
AI Advisor for Humans via Brain-Computer Interface

Daniel Branham
Collaborative Immersive Exploration for Smart Building

Emily Wasylenko
Drawing Back the Veil: Cognition and Creative Sense-Making in Augmented Reality

Maggie Sellers
Conversation recognition in an Android app

Kyle Manning
Changing it up; Modular 3D printed prosthesis to increase user customization

Karena Huang and Kailey Wolfe
Research in Data Provenance for Security