2018 Spring ICP Showcase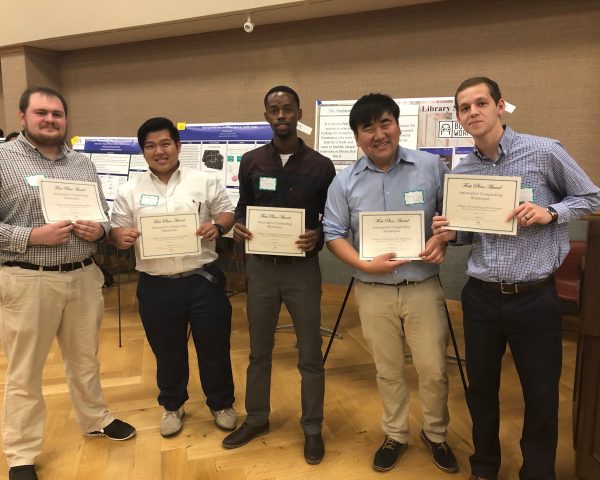 On May 8, CCI Business Partners, faculty, staff and administration gathered in the Cone Center's Lucas Room for the poster presentation of more than two dozen Innovative Computing Projects (ICP).
Tackling real-world problems with the creative application of emerging technologies and fresh perspectives, student teams worked directly with CCI Business Partners, mentors and advisors on topics as varied as human resources analytics and big data storage to parking analysis and active learning.
By day's end, three projects emerged and were recognized as this year's best.
In third place were students Shairal Neema, Pranalee Jadhav, Srujan Pothina, Sridhar Ramesh Babu, Vamsi Veginati and their WebCrawler HR Dashboard. Working with advisor Dr. Mohsen Dorodchi and Continental, the team created a platform for human resources departments to better analyze employment needs, candidates and the marketplace.
In second place were students Aileen Benedict, Joshua Hutcheson, Devansh Desai, Erfan Al-Hossami and Elizabeth Thompson (also advised by Dorodchi) who created an active learning application called EduSpace to encourage and reward student engagement.
Recognized for having the top ICP presentation – and each receiving a $50 Amazon gift card – were students (inset: L-R) Justin Farkas, Charles Valdez, Fiacre Indagiye Siboman, Young Jung and Jake Mecimore for RFIDefense, a home security, monitoring and analysis tool using RFID tagging to replace traditional keys, keypads, even on-off switches. Working with advisor, Dr. Bojan Cukic, the team reached proof-of-concept with a door-lock prototype and plans to continue perfecting and expanding its viability.
For all of its participants and partners, the ICP Showcase was a success and will continue to grow as students push beyond classroom theory and explore the practical application of what they are studying.
For More News, Notes and Updates, Follow Us on Twitter: @UNCC_CCI