2019 CCI Ph.D. Open House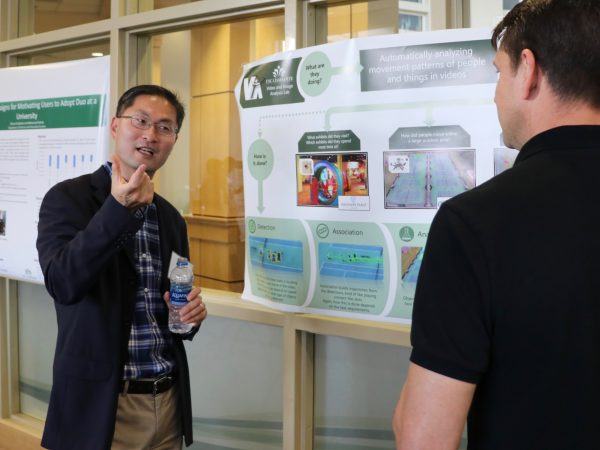 On Friday, October 25, UNC Charlotte's College of Computing and Informatics (CCI) hosted its 2019 Ph.D. Open House. The program was designed for prospective Ph.D. applicants to learn about the admissions process, courses and research opportunities offered in Bioinformatics, Computer Science, and Software Information Systems. Twenty-three prospective Ph.D. students attended and were able to interact with faculty, staff and students from the College.
Dean Fatma Mili and Associate Professor Mohamed Shehab delivered a welcome message to the prospective applicants. The audience then heard a panel discussion with alumni of the program, facilitated by Patrick Madsen, the director of Career Services. Panelists Gorrell Cheeks, Rich Nguyen, Justin Martin, and Colby Ford discussed their experiences as PH.D. students. The panelists discussed the why behind obtaining a Ph.D. and how their faculty mentors assisted in their journey.
Shehab, Graduate Program Coordinator Lauren Slane, and Director of Graduate Studies Jody Marshall discussed the application and admission requirements for Computing and Information Systems and Bioinformatics and Computational Biology. They also discussed admissions requirements and tips for preparing materials to submit with an application.
Another panel featured current Ph.D. students Rittika Malik, Tyler Turner, and Johanna Okerlund. This was a closed-door session, encouraging prospective students to ask any questions that they might have and to get an in-depth understanding of CCI's culture.
Faculty members Xixia Du, Jessica Schluester, Yonghong Yan, Liyue Fan, Erik Saule and Min Shin (pictured) participated in a Lightning Talk, sharing their research with prospective students in five minutes or less.
The open house ended with a poster session. Current faculty, Ph.D. students, and post-doctoral fellows participated, showcasing their research.
– Jody Marshall, contributor
For More News, Notes and Updates, Follow Us on TWITTER.