Above and Beyond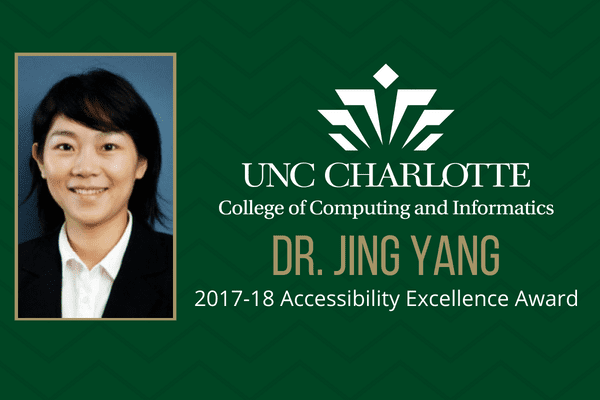 When Dr. Jing Yang saw one of her students come to the aid of his peer, helping her from the classroom after she had suffered a seizure, Jung was deeply concerned and wanted to know if this was a commonplace event in the student's life and how she could help.
For her response, Yang earned the 2017-18 Accessibility Excellence Award from UNC Charlotte's Office of Disability Services.
"It was the first time I was confronted by a situation like this in the classroom," says Yang. "What I did was just a tiny thing. The student who helped that first day deserves at least half of the award."
What Yang did to accommodate her student in this presentation-and-response-based class was allow her to always present first and then leave the classroom, responding to her classmates' presentations later when they were posted online. With Yang's support and help from some of her classmates, the student missed nothing and excelled in the class, despite the unusual means.
Yang was nominated for the award by the student and is humbled by the honor.
"The award means a lot to me," Yang says. "I am glad that the class was a positive experience for [the student]. My classroom was very friendly since the students took part in a lot of discussions and teamwork together."
Gena Smith, Director of the Office of Disability Services, says, "Students with disabilities nominate faculty/staff whom they feel made a contribution to ensure accessibility and as a result made an important difference in the students' semester."
Neither Yang or Department Chair, Dr. Bojan Cukic, knew about the nomination or award before it was announced.
"Sometimes, we spend so much time focusing on things that need to be fixed, we forget how many things we do right," says Cukic. "It is humbling to be part of a department and College in which these things are not a big deal – except that they really are."