Alumni Spotlight – Evie Powell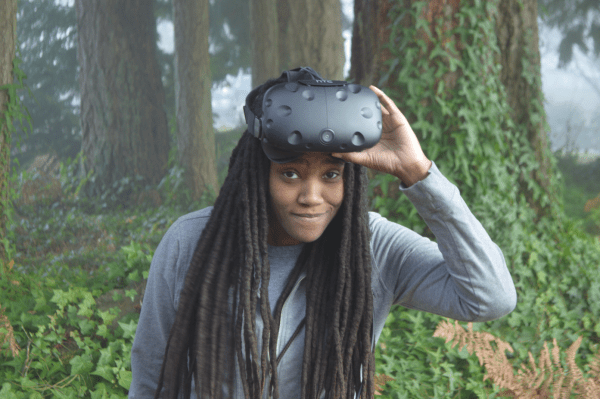 If doing something one loves means never working a single day, Evie Powell is well on her way to a work-free life. Powell, a UNC Charlotte College of Computing and Informatics (CCI) graduate, has taken her passion for video games and turned it into a career; perhaps, one could argue, a vocation.
"Like most kids, I played the popular puzzle, combat and shooter games," she says. "But I would would pick up on different characters' limitations and encourage my friends to choose other characters to play. I called them 'Cheese Characters,' the ones designers had somehow made less effective.
"Although I didn't know what they really did, to me, game developers were like NBA All-Stars to a kid who plays basketball. They were the heroes of my hobby."
By 2012, and still shy of her 30th birthday, Powell had earned bachelor's and master's degrees as well as a Ph.D. from CCI and set off for the Pacific Northwest.
While working full time at Proprio as a Virtual Reality Engineer, providing surgeons with medical imaging during live surgery, Powell launched Verge of Brilliance (VoB) in 2014. Operating out of a shared innovation hub at the University of Washington, VoB is an experimental games studio. "The goal is to push the boundaries of what we expect from game play." she says. "At Verge, we try for deeper meaning than pure entertainment value."
Focused on atypical game designs like co-located mobile multiplayer games, asymmetric games, and several XR (AR/VR/MR) games, VoB is also exploring pervasive design and context-aware gaming.
"I'm really excited about the future of technology and our movement away from traditional computing," says Powell. "Computers are no longer just desktop and laptop devices. They are in our watches, phones, cars, and even common household items. It's exciting to think about how we'll learn to play as technology advances away from just sitting somewhere for a set time for a discrete entertainment experience."
Powell believes pervasive game play is a viable means to learn about the implications of ubiquitous computing.
"In order for someone to engage in a game with no boundaries, its designer has to think critically about when and where a person could be playing, what else they could be doing when they engage, and what level of attention is required when playing. To not do so would make the game annoying and socially unacceptable at best; outright dangerous at worst."
At VoB, Powell is also free to focus on ethical and socially-responsible game design. "I am against games that lack thought, that do not consider how characters – especially female characters – are presented," she says. "We all need fun and entertainment, but utterly mindless games can be toxic.
"Right now, gaming is bigger than movies, TV or music…so you will get a bit of everything," she says. "However, there is an interesting movement in the industry to reject mass-market do-over games released every year with just better graphics or faster speeds, but no more meaningful content."
Among leaders of this movement is Games for Change, a group of influencers pushing for more meaningful play experiences. Two games that have been recognized as meeting this challenge are:
That Dragon, Cancer (2016), a single-player game based on the experiences of two developers, Ryan and Amy Green, whose son suffered and eventually died from terminal cancer diagnosed when he was just one year old. The game takes players through the highs and lows of their experiences in an immersive way a movie never could.
Journey, a 2012 release from Thatgamecompany, earned a number of awards and critical acclaim for its art and music but also the emotional experience created by the companionship developed playing with a stranger.
Powell's journey to UNC Charlotte was pretty simple, and not entirely her own, she says. "I am from Charlotte and went to Olympic High. Because I was not yet 18 when I was leaving for college, my mom did not want me to go far away."
Once enrolled, Powell made her way to CCI and immediately began training to become one of those game-developer stars of her youth.
"Intro to Games with Dr. Tiffany Barnes (now at NC State) provided my first real exposure to the development tools of gaming," she says. "The opportunity to contribute, even as an undergrad, to gaming research eventually led to my staying at UNCC and earning my Ph.D."
The Games + Learning Lab, where she did research in serious games, shaped Powell's commitment to continuing her education and the exploration of more meaningful play. "I started out making education-game content that was used in introductory computer science classes and trying to measure learning gains," she says. "Once I discovered I really liked that kind of research, it was an easy transition from undergraduate to Ph.D. student.
"Ultimately, I think one of the most important things I learned at CCI is how to learn and seek information," she says. "Once someone is empowered with that ability, then they can start expecting and demanding more from the world around them."
Fast Five w/ Evie Powell:
1: Shuffle your music Library. What song played first?
"Wings" by Little Mix. I'm pretty happy that played first. It's a good one!
2: Are e-sports sports and if so, are e-sports players athletes:
Well, I don't have a hard stance on this but yes, I would characterize eSports as sports. The training people go through to play eSports requires a mental and physical fortitude that a couch potato would not have. So yes, since all players of sports are considered athletes then players of eSports would at least be eAthletes.
3: What game do you wish you designed:
Beat Saber
4: Favorite gaming device:
HTC Vive
5: Guilty Pleasure APP (a real time suck):
Toon Blast
For More News, Notes and Updates, Follow Us on Twitter @UNCC_CCI