Alumni Spotlight – Larry Ogunjobi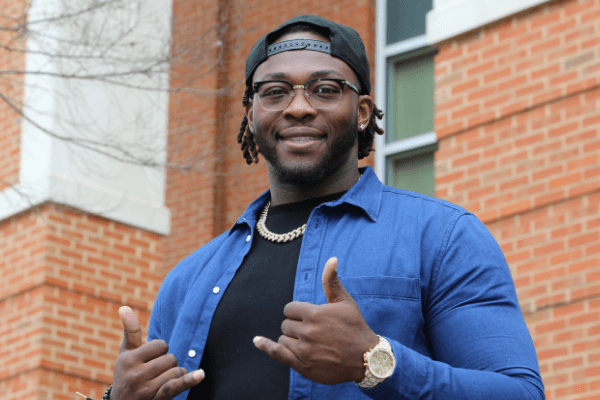 For College of Computing and Informatics (CCI) alum and emerging NFL star Larry Ogunjobi, the intersection of technology and sports began in high school.
"I was a fat kid," he says. "So, my mom took my Xbox away and hired a trainer to get me off the couch."
That trainer not only helped Ogunjobi get into shape, but registered the unwitting high school sophomore to play football at Ragsdale High School (Jamestown, NC). "I didn't make it through the first workout," Ogunjobi says. "The coaches questioned whether I was really committed. They didn't know I just wanted my Xbox back."
At 6'3" and more than 300lbs, with unusual quickness for a big man, Ogunjobi almost immediately established himself as a force on the football field – and earned his Xbox back. Leading Ragsdale to back-to-back conference championships, Ogunjobi had several opportunities to play college football and chose UNC Charlotte's fledgling program after locking himself in a campus bathroom to pray for guidance.
Unwilling to entertain what seemed an unlikely NFL dream, Ogunjobi's plan was to use his time at UNC Charlotte to prepare for a career in medicine. "I thought I loved chemistry. It just didn't love me back," he says. After being rebuffed by chemistry, Ogunjobi adjusted his focus to Computer Science and Biology, eventually graduating with degrees in both.
"Biology kept me in touch with medicine, but computers had always been my passion," he says. "Beyond gaming, I used to work at a flea market with my friend's dad, who sold computers and paid me in old parts and pieces. I learned to boost my own equipment from 512mb of RAM to, maybe, a gig and thought I was the next Bill Gates.
"At some point, I was able to build my own computer and load the latest operating systems from Microsoft, Linux, even early Ubuntu," he says. "And, most of the time, it worked."
Knowing he was choosing a more difficult path to graduation than most of his teammates, Ogunjobi persevered. "College football is a full-time job, so a lot of players seek a lighter academic load," he says. "But after I took my first coding class at CCI, I was hooked and couldn't imagine doing anything else."
"One of the best things about CCI is its students," he says. "When you put all of these interesting people from diverse backgrounds in one place with a common passion, incredibly organic relationships develop. I met so many solid people and built a ton of forever-friendships at CCI.
"Even the professors are dope," he says. "They aren't teaching facts and rules, but innovation and the value of varied perspectives."
Dr. Bojan Cukic holds a particularly special place in Ogunjobi's heart. "I took a few classes with Dr. Bojan," he says. "I even took one twice, after having to withdraw the first time."
Sympathetic to the pressure Ogunjobi felt in balancing football and school, Cukic taught him to better manage his time. "When you are working on a long-term programming project, for example, you can't wait until the last minute," Ogunjobi says, "because you have to be able to test what you are doing along the way."
When, after his junior year, Ogunjobi was asked to consider foregoing his senior year to enter the NFL Draft early, he never flinched. "First, I promised my mom I would graduate," he says. "That is every parent's dream. If football were meant to be, it would wait. There were other things I wanted to accomplish."
For Ogunjobi, some of it was also destiny. A "numbers guy," he is quick to point out that he wore number 65 in high school before having it issued to him at UNC Charlotte and then becoming the 65th pick in the 2017 NFL Draft.
UNC Charlotte's first-ever NFL player, Ogunjobi has recorded 84 tackles and 6.5 quarterback sacks in just two years as a defensive tackle for the resurgent Cleveland Browns.
"The quiet confidence Ogunjobi showed at his first NFL camp let you know the third-round pick would stick, and he's quickly evolved into one of the best interior linemen in the NFL," says Bill Bender of The Sporting News. "The more he does for the Browns, the more it will benefit the 49ers' football program. You couldn't ask for a better trailblazer."
On February 15, Ogunjobi returned to Charlotte and reached out to CCI about visiting with faculty, staff and students. After a morning appearance on WCCB's News Rising and an autograph session at the 49ers' football facility, Ogunjobi returned to Woodward Hall and spent time with Cukic and Dean Fatma Mili before being the guest of honor at a late afternoon coffee hour.
After chatting with Ogunjobi, one faculty member was overheard saying, "He reminds me why I started teaching in the first place."
Fast Five w/ Larry ogunjobi:
1: Shuffle your music Library. What song played first?
"Remind Me, by Royskopp, a Norweigian Electronica duo. It's the soundtrack from the old Geico Caveman commercials. It's dope!"
2: Would you rather Make $3M a year playing football or doing cancer research:
"Why can't I do both? Right now, I'm just coming into my own as a football player, but I can only play football for so long."
3: best tech advice for your teammates:
"Don't press SEND."
4: Favorite call to hear in the huddle:
"Aggie Stab Single. That puts me over the center, one on one. There, I can use my speed to get past him before he has time to react."
5: Guilty Pleasure game:
Kingdom Hearts 3
For More News, Notes and Updates, Follow Us on Twitter @UNCC_CCI