CCI Alumni Spotlight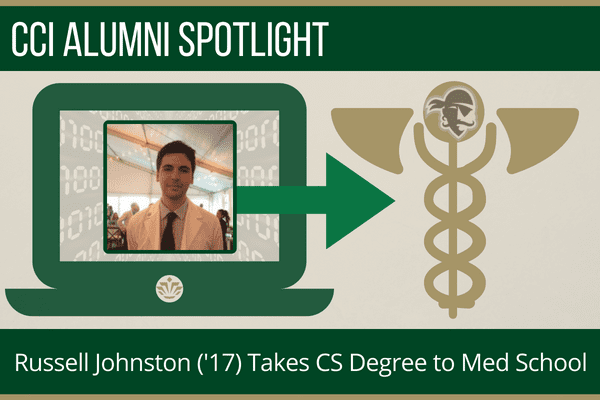 When Russell Johnston made his way to the College of Computing and Informatics (CCI) at UNC Charlotte, he had a goal common among computer science majors: land a big, important job at a big, important tech company. But because he also brought with him an open mind and a willingness to explore unmapped avenues, he has taken his CS degree all the way to medical school.
A member of the inaugural class at Hackensack-Meridian School of Medicine at Seton Hall, Johnston is a 21st Century renaissance man, applying his diverse passions and interdisciplinary undergraduate experience to pursue a career in medicine.
Rather than focusing solely on his studies at CCI, Johnston found himself in the Chemistry Department in the College of Liberal Arts and Sciences (CLAS) where he cultivated a previously unrecognized zeal for chemistry while working in the Nanoscale Dynamics Group Lab under the direction of former Associate Professor, Dr. Marcus Jones.
"Russell was an undergraduate research scholar in my group for about two years. He was, without doubt, the best undergraduate student that I ever had in the group – and chemistry wasn't even his first degree," notes Jones. "He worked closely with Drew Tobias, a Ph.D. student, on several projects linking gold nanoparticles to porphyrin molecules and quantum dots. In fact, he led his own project, in parallel with Drew, and will soon be acknowledged as an author on a journal article."
We had a chance to chat with Johnston about his journey just weeks after he and the rest of his med school class recited the World Medical Association's "Physician's Pledge," and dedicated their efforts "to the service of humanity." This Renaissance Man did not disappoint.
How did you find your way to UNC Charlotte?
I went to high school at Northwest Guilford in Greensboro. However, my hometown – Madison, N.C. – was some distance away in rural Rockingham County. Leaving high school I felt fortunate to gain entrance into a 4-year college. In my tiny hometown, most graduates do not continue their education after high school. If they do, it is usually in trade schools.
UNC Charlotte was particularly attractive to me because of its position as a regional supplier of computer science graduates and its reputation for offering strong research opportunities.
Had you always been so focused, so certain of your future?
Not really. It wasn't until starting at UNC Charlotte that I developed a strong academic work ethic that ultimately made me a competitive applicant to medical school.
Initially, though, was medical school on your radar?
No. When I first entered college, my long-term goal was to become a computer scientist and eventually work at a "Big 5" tech giant like Google, Apple, Amazon, Facebook or Microsoft.
When did your focus shift?
At some point during my freshman year, I joined a physical chemistry lab and was immediately drawn to the sciences. Around the same time, I also joined the University Center for Academic Excellence (UCAE) and took advantage of its Supplemental Instruction program. I greatly enjoyed my role as a teacher in chemistry.
College is the time to exit your comfort zones. When I was in high school, my worst subject was chemistry, and yet by the time I left UNC Charlotte, organic chemistry had become my best subject.
My advice to students is to enter college with an open mind and to critically examine your goals and passions. It is financially burdensome to earn a bachelor's degree, only to discover that your anticipated career path either does not have a favorable job market or the field is not a good fit. Take time to get firsthand experience in your anticipated career. This is the only way to truly understand whether computer science, medicine or any other career is right for you.
You have taken your CS degree to medical school. How does one complement the other?
Computer science is an interesting field in the sense that software itself has very little inherent value. The value of software comes from its ability to solve problems in other fields. In medicine, there are several "hot topics" where computer scientists hope to make strides. The first is in the area of image processing. Radiology images currently are read by radiologists and then interpreted into text. Soon, computer scientists hope to develop algorithms or machine learning environments that can automatically generate an interpretation solely from a CT scan image. The second area of interest is in artificial intelligence and its potential use as a "compliment" to the physician. Ideally, these programs would evaluate patient data and suggest differential diagnoses and treatment plans to the physician.
Historically, efforts to address these problems have been unsuccessful. However, there is no question that within my lifetime, what it means to be a physician will drastically change due to advancements in machine learning, natural language processing, and even augmented reality.
Because of this, I have found my CS education at UNC Charlotte invaluable.
Did you find something here that you might not have found at another school?
The greatest benefit to my education, long-term, was UNC Charlotte's location and connection to the city of Charlotte. During my sophomore year, I started working at Carolina's Medical Center, which is where I ultimately decided to pursue a career in medicine. It was at CMC that I gained most of my experience in healthcare and medicine. Without UNCC, with its campus in our state's largest city and hospital, I might not be in medical school today.
For More News, Notes and Updates, Follow Us on Twitter @UNCC_CCI