CCI and DSI Host WiDS Conference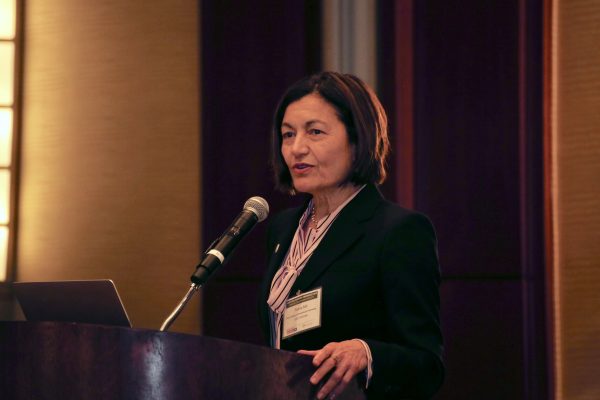 On Wednesday, March 26th, UNC Charlotte's College of Computing and Informatics (CCI) and its Data Science Initiative (DSI) hosted more than 300 guests at the annual Women in Data Science (WiDS) Conference at the Ritz-Carlton in Charlotte, NC.
WiDS Charlotte is one of more than 150 regional events taking place in approximately 50 countries in association with Stanford University's WiDS initiative championed by its Institute for Computational & Mathematical Engineering (ICME).
The half-day event featured keynote speakers, panel discussions as well as a networking reception for students, academics, corporate professionals and leaders committed to supporting women and diversity.
After a brief opening address delivered by CCI Dean Fatma Mili (pictured), and a welcome message from WiDS Ambassador, CCI alum and PhD candidate, Madlen Ivanova, Kate Starbird delivered the day's first keynote.
Starbird, whose resume includes a stint playing basketball in the WNBA, studies disinformation and social media at her University of Washington Human-Centered Design lab. Her talk, on the impact of disinformation campaigns, was simultaneously inspiring and terrifying. Using data science to forensically unpack divisive social media trends is an emerging field, but what is discovered can be disturbing. Starbird admits, "Sometimes, I wish our results were wrong. The knowledge we gain can empower or paralyze. We have to choose which."
Following Starbird was a panel discussion on building the talent pipeline featuring Sherrell Dorsey, CEO of BLKTECHCLT and The Plug; Pinky Parsons, CCI alumnus and ChickTech Charlotte Director; and Kay Read, Executive Director of the Charlotte Area Technology Collaborative. Building relationships and training future tech talent, especially for girls and underrepresented minorities, needs to begin earlier and earlier in schools. "There is no too young or too old," said Read. "The ubiquity of technology in our lives has removed those barriers."
Chief Diversity Officer from Lowe's, Janice Little, delivered the second keynote. Imploring the audience to "try things on," Little focused on the increasing flexibility of high-tech training by highlighting several women whose STEM educations led to success in roles far from the traditional application of technology. She said, "Own your story. Be bold and unafraid of transitions as you make your way in the world."
Following Little was a discussion workplace success, obstacles and opportunities, was a panel featuring Rumman Chowdhury, Global Lead for Responsible AI at Accenture Applied Intelligence; Shannon Versaggi, Vice President of Channel Marketing at Lowe's; and Bhavana Barthholf, General Manager at Microsoft.
During the event, Mili asked, "In 20 years, will WiDS be necessary?"
Time will tell, but if the energy and inspiration of WiDS Charlotte 2019 is an indication, WiDS 2039 will be more a celebration of achievement than a call for increased acceptance and inclusion.
For more on WiDS, CLICK.
For More News, Notes and Updates, Follow Us on Twitter @UNCC_CCI.