CCI Dedicates Visualization Center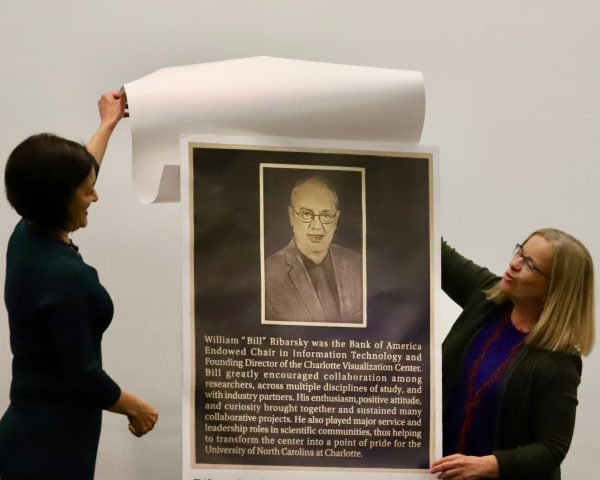 On Friday, February 21, UNC Charlotte's College of Computing and Informatics (CCI) hosted a seminar to highlight the life and work of Dr. William "Bill" Ribarsky, which concluded with the dedication of the William Ribarsky Center for Visual Analytics in Woodward Hall, room 232.
Ribarsky, who died on February 23, 2017, was the Bank of America Endowed Chair in Information Technology at CCI (2004-15) and founding director of the Charlotte Visualization Center. From 2008-14, Ribarsky was chair of CCI's Computer Science Department.
In 2015, he received the First Citizens Bank Scholars Medal, which recognizes recipients who focus on the excellence and importance of sustained contributions in research and creative activities.
During the seminar, the enduring legacy of Ribarsky was celebrated in presentations by Drs. Wenwen Dou and Zach Wartel, both associate professors at CCI who worked closely with Ribarsky. Following the presentations, Associate Dean Dr. William Tolone moderated a panel discussion which included Dou and Wartel, as well as Dr. Larry Hodges, who initially worked with Ribarsky at Georgia Tech and eventually hired him at UNC Charlotte. Hodges is currently Professor of Human-Centered Computing​ at Clemson University.
In closing, CCI Dean Dr. Fatma Mili reiterated Ribarsky's impact on the growth of the College, which is celebrating its 20th anniversary, and invited Ribarsky's widow, Barbara Schreiber, to join her in unveiling a photograph of the plaque that is now on display in the William Ribarsky Center for Visual Analytics.
To view images from the seminar and dedication, CLICK.