CCI, DSI Host Analytics Frontiers Conference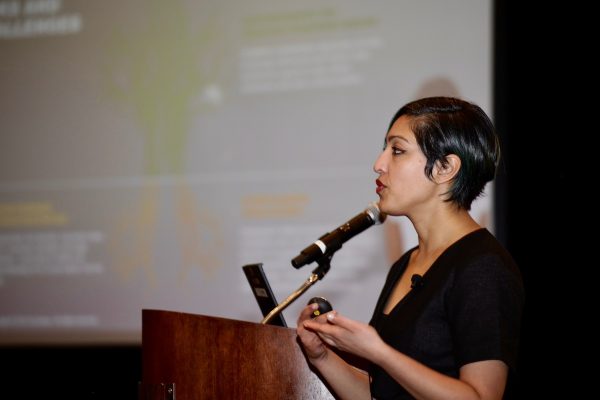 On Wednesday, March 27th, UNC Charlotte's College of Computing and Informatics (CCI) and Data Science Initiative (DSI) hosted its fifth Analytics Frontiers Conference at the Ritz-Carlton in Charlotte, NC.
The Southeast's largest conference of its kind, Frontiers connects C-level executives, top data scientists, researchers, entrepreneurs as well as academic and government leaders to share ideas, network and advance the region as a leading technology hub. Attracting the industry's biggest influencers, the powerhouse event has grown into a gathering of more than 500 of the most brilliant minds in Data Science.
In addition to more than two dozen breakout sessions, the all-day Frontiers 2019 featured two keynote addresses, a vibrant exhibitor area and ample time for networking.
If there were a theme to this year's edition, it was the ethical and practical use of data, artificial intelligence and machine learning in a fast-changing corporate and social landscape.
"As the capabilities and expectations from AI-driven applications increase, user awareness of possible unintended consequences is growing too," says Dr. Bojan Cukic, Professor and Chair, CCI Department of Computer Science and Interim Executive Director, Data Science Initiative.
The questions Cukic sought to have addressed at this year's conference included: Can decisions made using AI reasoning be fair to everyone? Can systems be accountable and transparent in decision making? Will we be able to ask for an explanation when the outcomes do not appear right? "These," he says, "are some of the most important questions facing technology and society."
Following opening remarks from CCI's Dean, Fatma Mili and MS student Daniel Ramos, came the first keynote address, delivered by Dr. Rumman Chowdhury (pictured), Responsible AI Lead and Analytics Executive at Accenture.
Chowdhury's talk, Ethics in AI, Demystifying Deep Learning and Artificial Intelligence, explored common concerns in the evolution of AI. "We can summarize where we have been and where we are now in AI by looking at three phases," she said. "As with any emerging technology, we started by growing awareness of it, evangelizing to attract interest. The second phase is action, when we make concrete what had been just theories and goals. Now, we are in the agency and accountability phase where we must wrestle with the responsible and ethical application of what has been developed." Chowdhury believes it is healthy to be skeptical, but to ensure the most ethical and effective application of data science, we must embrace it. On the homepage of her site (rummannchowdhury.com) is a quote from Atul Butte, which closely mirrors Chowdhury's message. "Hiding within those mounds of data is knowledge that could change a life or change the world."
Following Chowdhury's address was the first of four opportunities for attendees to choose from as many as six finely-targeted breakout sessions (see the complete list below).
After lunch and a second series of breakout sessions, Viktor Mayer Schoenberger, Award-Winning Author and Professor of Internet Governance and Regulation at Oxford University took the mainstage to deliver his keynote, Data's Unexpected Achilles Heels, and What to do About It.
Schoenberger, who was once incorrectly attached to a data minimization movement, which called for strict limits on the collection of data, started by distancing himself from that association. Schoenberger, in fact, believes in the power of data maximization and decentralization. Highlighting the impact of larger data sets in everything from medicine to customer service, Schoenberger is an evangelist for the collection of as much data as can be gathered and studied to make the biggest advances. Therein lies the Achilles Heel. "Innovation," he says, "used to be the specialty of independent outliers. Now, because the biggest data sets are controlled by the biggest players, like Amazon and Google, the independent innovators are left out, or limited to working with incomplete data sets." Schoenberger would like to see us embrace a system of shared data, which is easy to execute, but faces tremendous – and predictable – resistance from the biggest big data players. Schoenberger pointed out that regulated data decentralization is being tested in other countries. Perhaps, in an effort to encourage innovation, a similar movement will take root in the United States. And perhaps, its origin will be traced to the 2019 Analytics Frontiers Conference.
The event concluded with two more rounds of breakout sessions and a networking reception where discussions of future collaborations seemed to abound.
"Charlotte's Analytics Frontiers is undoubtedly one of the best organized, largest and most relevant data science conferences in our region," Cukic said, looking back on the day. "The Data Science Initiative at UNC Charlotte is fulfilling its promise to bring academia and industry together, turn data into knowledge, knowledge into insights and be the leading organization in the new digital age."
For more on the Analytics Frontiers Conference, CLICK.
For more on CCI's Data Science Initiative, CLICK.
BREAKOUT SESSION PRESENTERS:
Joshua Sutton, CEO – Pandera, How to Align your Business Users with Advanced Analytic Capabilities to Drive your Organization Forward
Sean Gannon, Health Analyst – Novant Health, The Value of Intentional Communication and Structure Design in Analytics
Christopher Johannessen, Director of Digital Services and Data Science – Sia Partners, Navigating Regulatory and Privacy Challenges in Analytics, Data Science and AI
Arunkumar Bagavathi, Ph.D. Student – UNC Charlotte, Examining Untempered Social Media: Online Extremism and Information Mutation on Gab.com
Cory Hefner, Lead Data Scientist, Cyber Investigations – TIAA, Automated Document Classification: Using Machine Learning to Guide Data Loss Prevention
Harsh Singhal, Head of Decision Science and Artificial Intelligence Validation – Wells Fargo; Vishant Sharma, Director – Federal Reserve Bank of Atlanta; Jie Chen, Managing Director, Advanced Technologies for Modeling (AToM) Group of Corporate Model Risk – Wells Fargo, Panel Discussion: Safe and Sound AI for Financial Institutions
Naras Eechambadi, Founder and CEO – Quaero; Kurt Newman, Principal Data Scientist – ADP, Implementing a Large Scale Data and Analytics Platform to Effectively Monetize Data through Multiple Uses Across Industries
Michael Korvink, Senior Data Scientist – Premier Inc.; Katie Pratt, Data Scientist – Premier, Inc., Adventures in Feature Engineering
Kyra Koch, Data Scientist – TIAA, Using NLP Model to Classify Complaints
Tracey Smith, President – Numerical Insights, The Light and Dark Side of People Analytics
Janine Sneed, CDO and VP of Customer Success – IBM Hybrid Cloud, Journey to AI
Cliff Weaver, CEO and Founder – R is my Hammer!, Pitfalls of AutoML Platforms
Doug Jennings, VP of Data Analytics and Customer Insights – Lowe's, Reinventing Analytics to Drive Value in Retail
Jason Roberge, Senior Data Analyst – Atrium Health; Tim Heatherington, Lead Application Specialist – Atrium Health, Data Analytics and Methodological Review of a Research Study Among COPD Patients at Atrium Health
Weifeng Zhong, Research Fellow – American Enterprise Institute, Reading China: Predicting Policy Change and Machine Learning
Erin Illman, Partner and Chair of Cybersecurity and Privacy Team – Bradley, When Big Data Discriminates: How to Avoid Legal Pitfalls with Regard to Discrimination in Online Marketing
Jie Chen, Managing Director, Advanced Technologies for Modeling (AToM) Group of Corporate Model Risk – Wells Fargo, Deep Insights into Interpretability of Machine Learning Algorithms and Applications to Risk Management
Tim Eisenmann, Chief Analytics Officer and SVP of Advanced Analytics – American Tire Distributors (ATD), How ATD, the Largest Tire Distributor World-Wide is Reinventing The Wheel through Advanced Analytics
David Olaleye, Senior Software Development Manager and Principal Research Statistician – SAS, Real World Patients: Risk Assessment and Risk Predication Models for Hospitalization and Readmission
Scott Tonidandel, Professor of Management – Belk College of Business, UNC Charlotte, Talent Analytics: Using Data Science to Drive People Decisions and Business Impact