CCI Grad Students Win at HACKDuke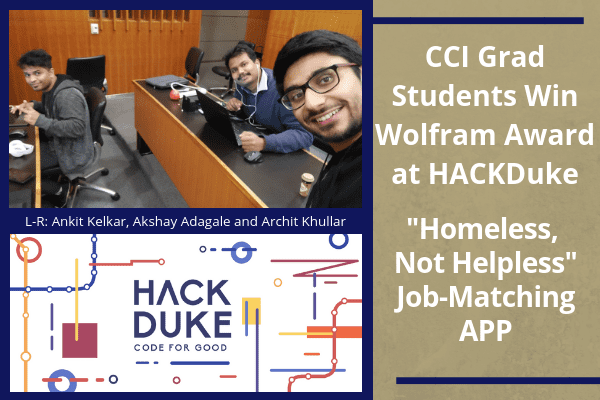 On the weekend of October 13th, three graduate students representing UNC Charlotte's College of Computing and Informatics (CCI) participated in Duke University's HACKDuke Coding for Good event and earned a Wolfram Award. Though top teams are rewarded, HackDuke is more about collaboration than competition and is almost entirely focused on cultivateing ideas that aim to make a positive impact on social issues.
In a 24-hour span, Ankit Kelkar, Akshay Adagale and Archit Khullar created Easy Connect, a platform which can connect financially-challenged, even homeless, skilled workers to employers or private citizens seeking short-term labor. Easy Connect uses Twilio, Facebook API, MongoDb cloud, Amazon AWS (EC2 instance) Node.js, Express, Android Studios for Mobile and Web Applications. Potential workers are able to register in the application directly via text message with as little information as their names, locations and skillsets. Employers can directly hire the employee with a particular skillset by contacting them through their phone number.
Khullar, recognizing the need to offer employment opportunities to a growing population of homeless Americans aa well as industry's need for skilled and semi-skilled workers, says, "We were inspired by a belief that the homeless are not helpless. We think we can better address inequality in our workforce by reaching out to the people who most need help and make it easy for them to connect with jobs."
Annually, Major League Hacking (MLH) sanctions more than 100 hackathons, each offering students a chance to hone skills in a competitive environment, produce original work and be rewarded with great prizes.
For more on MLH, CLICK.
For more News, Notes and Updates, Follow Us on Twitter.