CCI Hosts 21st Annual Cybersecurity Symposium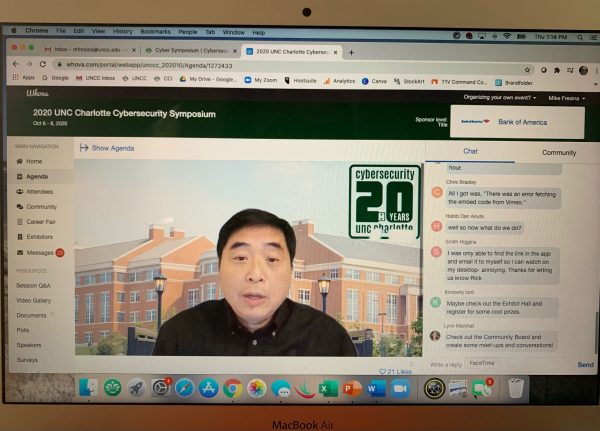 This week, UNC Charlotte's College of Computing and Informatics (CCI) hosted its 21st Annual Cybersecurity Symposium. Presented virtually over the course of three days (October 6-9), the event drew nearly 900 attendees, a 25% increase over the in-person 2019 edition.
Shifitng from two decades as an in-person, on-campus event to a wholly virtual platform presented a number of challenges, but also several opportunities, according to one of its co-chairs, Professor Heather Lipford.
"While the virtual Cybersecurity Symposium changed how attendees interacted, it also offered access to our outstanding program to the largest number of people ever," says Lipford. "The virtual format also enables attendees to access content even after the event is over, allowing people to take full advantage of learning from all of our speakers and panelists in a way they would not be able to in person."
For two reasons, event organizers were committed to holding the symposium at the same time of year as it has been for most of its history. First, as a much-anticipated annual event for the cybersecurity industry, it was important to maintain its date on the calendar. Second, with the challenges of COVID-19 and an election year, the security of our information and data is a top-of-mind concern.
"Adversaries have accelerated attacks, taking advantage of COVID in new ways, and finding new attacks we need to learn about," says Todd Inskeep, event presenter and organizer. "Most importantly," he says, "information security professionals are largely introverts. As humans and security experts, we still need to make connections and have interactions outside ourselves. Learning and sharing best practices makes us all safer."
As a relatively young institution, UNC Charlotte cannot often claim a legacy of excellence in an emerging industry, but because of a shared vision for the future, UNC Charlotte and CCI established its information security presence long before "cybersecurity" entered the public lexicon.
No longer is information security a concern just for large corporations. Today, technology is omnipresent, touching every part of our lives. As a result, it is inherently less secure and of greater concern to everyone.
Protecting everything from our personal information, medical records and finances to our nation's elections has become an unprecedented challenge in the age of COVID-19, as nearly every human interaction is being carried out online.
This year's event featured two career fairs, an exhibit hall, networking sessions, cyber strength and stretch sessions and more than 40 presenters – panelists and keynotes – covering an array of topics, but most conversations found their way to the security challenges of our "new normal."
As a necessary response to a threat-saturated world, CCI's Cybersecurity Symposium is more than a gathering of the most influential experts in the field, it is also a strategy incubator and talent generator for an industry expected to see 32% job growth in the next decade.
"The fact we've been doing this for over 20 years means we've built a reputation, and a community around Charlotte, the Carolinas and the Southeast that knows and trusts each other," Inskeep says. "It means the region is prepared to keep growing talent and support the many and varied businesses around the region that are continuing their digital transformations and have to manage their cyber risk."
Martin Ericson, longtime cyber authority and event presenter, believes UNC Charlotte is an ideal hub for cybersecurity innovation and talent development.
"With Charlotte being such a fintech (financial technology) magnet, there is a continual need for educated talent. UNCC's cyber program not only provides that but also, through the annual symposium, is a vital resource for information and new ideas for those in that field to increase their knowledge and skills."
With two decades of credibility and influence established, CCI's program and symposium are poised to continue as an academic and industry standard bearer for another 20 years.
BONUS Media:
During the Symposium, presenter and event organizer, Todd Inskeep was interviewed about the security of our elections by WFAE. LINK