CCI Professor Participates in Landmark College Board Program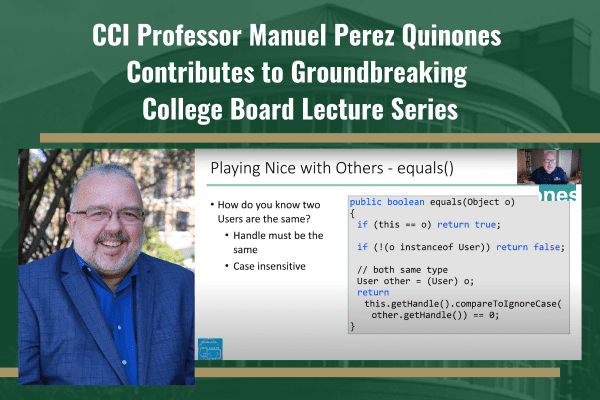 As part of an innovative response to the pandemic and shifting student needs, UNC Charlotte's College of Computing and Informatics (CCI) Professor Manuel Pérez Quiñones partnered with the College Board as an Advanced Placement (AP) Daily course lecturer. Leaning on college professors from more than 200 universities nationwide, the College Board developed "AP Daily," free online videos available to millions of students around the world seeking the challenge of college-level coursework whether they are learning in-person, remotely, or in blended-learning environments.
Pérez Quiñones, the only faculty participant from UNC Charlotte, delivered a lecture focused on creating user-defined data types in Java. The lesson shows how user-defined data types can enhance encapsulation, reduce complexity and make code easier to read.
Honored to be one of just 10 Computer Science (CS) lecturers asked to participate – each preparing students for one unit in the AP CS exam – Pérez Quiñones suspects he was nominated to participate by colleagues he's met at various CS conferences and meetings. "Surprisingly," he says, "I knew seven of the other nine professors from meetings at the SIGCSE (Special Interest Group – Computer Science Education) conference."
"My lecture was part of Unit 5: Writing Classes," he says. The College Board staggered the video releases to synch with student progress in each course. "The lectures are intended to be complementary to their instruction," says Pérez Quiñones.
For the first time in the history of the College Board, if an AP student misses class, falls behind, or is struggling with a subject, that student can get free help on demand. Students can view videos independently, or AP teachers can assign them as homework, which allows for a more connected classroom experience focused on engagement as much as content.
"Beyond bolstering the delivery of AP content, this is an excellent opportunity for us to connect with our future student population," says CCI Dean Fatma Mili. "They, of course, benefit from our academic expertise but also personally experience our teaching style and feel the passion we have for our subjects and students."
"To have a professor as talented as Dr. Pérez Quiñones as an 'AP Daily' lecturer is truly a benefit to the students and the entire educational community. As a subject matter expert, he is able to share the depth and breadth of his knowledge with high school students who are up for the challenge," says Trevor Packer, Senior Vice President AP and Instruction, College Board. "We are thrilled to partner with UNC Charlotte and Professor Pérez-Quiñones to help prepare these students for the opportunities provided by higher education."
—-
About College Board
College Board is a mission-driven not-for-profit organization that connects students to college success and opportunity. Founded in 1900, College Board was created to expand access to higher education. Today, the membership association is made up of over 6,000 of the world's leading educational institutions and is dedicated to promoting excellence and equity in education. Each year, College Board helps more than seven million students prepare for a successful transition to college through programs and services in college readiness and college success—including the SAT® and the Advanced Placement® Program. The organization also serves the education community through research and advocacy on behalf of students, educators, and schools. For further information, visit collegeboard.org.