CCI Professor Wins Prestigious NSF Award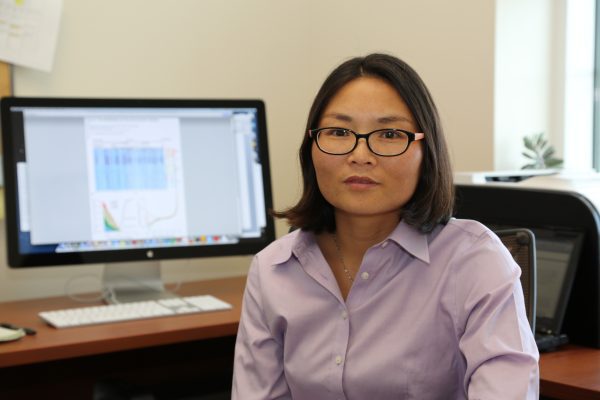 June 11, 2018: Assistant Bioinformatics and Genomics Professor, Dr. Xinghua "Mindy" Shi was notified by the National Science Foundation (NSF) that her project, "Integrative Approaches to Uncovering Complex Genotype-Phenotype Relationships in High Dimensional Genomics Data," has earned a CAREER Award.
"It is a great honor to receive this prestigious award," Shi says. "NSF ABI is a relatively small program where it funds several CAREER awards each year. It is wonderful to join this cadre of fellow academics."
With the award, Shi becomes the seventh CCI faculty member to be recognized by the NSF or Department of Energy (DOE) with a CAREER award for junior faculty.
Since 1983, the NSF has been rewarding outstanding work conducted by early-career faculty. Today, NSF CAREER awards are the foundation's most prestigious awards in support of junior faculty who exemplify the role of teacher-scholars through research, education and the integration of education and research within the context of the mission of their organizations.
A five-year continuing grant totaling nearly $600,000, Shi's award is a testament to the NSF's commitment to rewarding and supporting talented researchers and helping each winner establish a foundation for a lifetime of leadership integrating education and research.
For Shi, the award is a recognition of her past work in the field of bioinformatics, an intersection of computer science and biology. "This award," she says, "also supports me and my group to forge our way to utilize the emerging machine learning techniques toward understanding a longstanding and challenging problem in biology, which is, how our genetic makeup contributes to phenotypic variation."
Shi's project will speed the realization of the promise envisioned for big data genomics by establishing a new paradigm for genomics by fully exploiting the gamut of genomic datasets to better understand basis biology and combining robust statistical modeling and rigorous computational approaches toward predictive modeling of genomics data.
Forward-thinking, Shi's work will impact how genomics and bioinformatics are studied at all levels, from K-12 to graduate and Ph.D. programs and eventually in the way we customize the treatment of disease.
"Although our project is a fundamental research project, the deliverables from this project will reduce the barrier to apply complex models to address many scientific questions by providing software tools to help us understand how genetic difference will lead to different traits in humans, plants and beyond," Shi says. "This includes how we identify biomarkers to better characterize diseases like cancer and how we develop personalized therapies to treat and manage these diseases. Other applications include the design of genetic strategies to support efficient bioenergy production, agriculture cultivation and environmental sustainability."
As is the case with so many successful CCI projects, UNC Charlotte's support of, and commitment to, interdisciplinary work and collaboration deserves a portion of the credit.
"This award would not be possible without support from BiG and CCI," Shi says. "BiG and CCI encourage interdisciplinary work and collaboration, and this award is another example of its success. This project involves not only my group, but also colleagues from CCI and the biology department. It has been a great experience to be part of BiG, CCI, and UNCC."
More information may be found at https://shilab.charlotte.edu.
For More News, Notes and Updates, Follow Us on Twitter @UNCC_CCI