CCI Student Directing Landmark Campus Program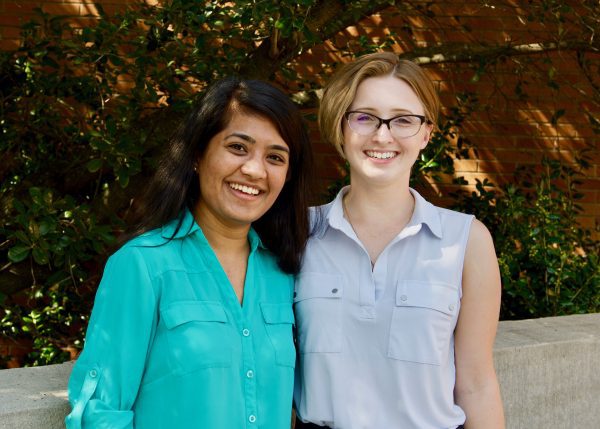 For the first time, UNC Charlotte this fall will be a campus hub for the highly prestigious Millennium Fellowship program, with 20 undergraduates from across the university chosen as Millennium Fellows to implement their LIFE Skills Initiative. College of Computing and Informatics (CCI) student, Sahithi Meduri, is serving as a Campus Director for the program.
The university is one of just 69 – or 6% – named this year from over 1,200 applicant campuses from 135 nations and is the only one selected in North Carolina. Other universities chosen in the United States include Arizona State University, Cornell University, Georgetown University, Georgia Institute of Technology, and Harvard University.
Supported by the Millennium Campus Network and the United Nations Academic Impact program, the Millennium Fellowship global program chooses student leaders and campuses for the semester-long student leadership development effort. The initiative helps students strengthen their communities while advancing the United Nations Sustainable Development goals.
Through the fellowship program, the UNC Charlotte student team is developing a community-focused LIFE Skills Initiative, centered on Lifestyle, Interpersonal, Finance and Education skills.
"I anticipate that the LIFE Skills Initiative will help its participants to increase awareness of their actions and choices as they prepare for their futures. I see the program helping students become more aware of their financial decisions and their emotional intelligence," said UNC Charlotte Campus Director Janessa Schwallie, who is majoring in mechanical engineering and German.
The UNC Charlotte scholars plan to work with students at Charlotte-Mecklenburg area high schools with the highest concentrations of low-income students to help them gain access to resources designed to build life skills.
"Our project is a combination of all ideas submitted by interested UNC Charlotte students," said Meduri. "Janessa and I wanted to make sure that we were working on a project where everyone pitched in, and everyone would be interested in working on it. We narrowed it down to the focus of quality education because it was a common interest of the group."
The UNC Charlotte team's ultimate goal is to contribute to efforts to break the cycle of poverty. They are aware that this is an ambitious goal, and they have already identified challenges they will tackle up-front.
"Since having a positive impact isn't something that happens in a day or overnight, the biggest challenge will be making sure we are bringing something new and effective to the table," Meduri said. "Every student is different, and we want to make sure we are helping them in the areas they need help the most."
The first month of the semester-long effort will be crucial, Schwallie said. "I foreshadow the planning stage being the biggest challenge for our cohort," she said. "We have four months to gather our connections, develop a curriculum, and implement our project – and the first month is going to be critical for planning. With the size of our cohort and our combined skills, I think we will be able to work together and make it a success."
The students will develop a plan of action using a toolkit designed to help them work as a team to consider core values, refine their skills, and take informed action. They come from a variety of fields of study and backgrounds, which means their ideas and approaches will draw from diverse perspectives.
The students deserve the accolades for theirs and the university's selection, said Jennifer Warner, who encouraged the students to apply. "This is a very prestigious award, and the students chosen as fellows are committed to addressing an important community issue, while also inspiring people to seek ways to make change happen," she said. "Our student leaders worked incredibly hard to find a project, meet with interested students, and get each student's primary and secondary applications through. They deserve so much credit."
Warner, who directs the LEADS program in the College of Liberal Arts & Sciences and is a faculty member in the Department of Biological Sciences, partnered with Mary Jo Shepherd, a faculty member in the Department of Political Science and Public Administration who administers the Model United Nations program at UNC Charlotte, to guide the students. They will remain involved in a volunteer advisory role with the fellows.
"We are so excited for these students and for the university," Shepherd said. "We expect some creative solutions from these students, and we also know they will elevate their leadership as they learn from and challenge each other around the important issue they have chosen to consider. We saw this process as another significant way for students throughout the university to develop their leadership skills and expand their vision."
The Millennium Fellows chosen at UNC Charlotte are:
Zachary Burgan, Business Administration
Justin Castillo, Pre-Public Health
Maria Cruzat, International Studies, Spanish and Public Health
Merel Devaney, Spanish and Pre-Public Health
Adriana Figueroa-Rivera, International Studies and German
Andrew Fiorentino, Political Science and International Business
Sarah Gaug, Political Science
Sayali Jadhav, Health Systems Management and Management Information Systems
Josephine Justin, Political Science
Christina Lee, Political Science and Asian Studies
Melissa Martin, Psychology and English
Briana McNeal, University College
Sahithi Meduri, Computer Science (*Campus Director)
Hiral Patel, Political Science
Sydney Roux, Psychology and Pre-Communication Studies
Janessa Schwallie, Mechanical Engineering and German (*Campus Director)
Mary Spain, Political Science
Emma Szewczyk, Sociology and Political Science
Aydin Thomas, Religious Studies
Jenna Thompson, Pre-Kinesiology
Words and Images: Lynn Roberson, CLAS Communications Director
Pictured: Student Campus Directors Sahithi Meduri (left) and Janessa Schwallie
For More News, Notes and Updates, Follow Us on Twitter.