CCI Students Storm the Beach at Normandy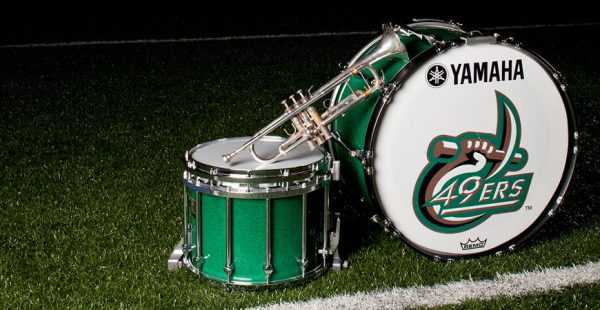 May 31: Eleven College of Computing and Informatics (CCI) students left Charlotte to participate in Normandy's 74th commemoration of the D-Day invasion as members of the Pride of Niner Nation Marching Band. Traveling to France with more than 125 of their bandmates, the CCI students will perform along the shores of that famous beachhead where casualties for Allied forces have been estimated at 10,000.
As the official band representing the United States, this is more than a field trip and a performance. This is an honor and an opportunity for UNC Charlotte's fledgling band to show its stuff on a grand stage.
Previewing the historic trip, Lawrence Toppman of the Charlotte Observer wrote:
The event, solemn and joyous at once, honors soldiers who fought to liberate France and eventually all of Europe in World War II. Only one U.S. college band gets invited to the annual D-Day ceremony in Normandy, and not one of them has been as new as the Niners.
Current seniors couldn't have played in this band as freshmen, because it didn't exist four years ago. Shawn Smith and Jeffrey Miller were still recruiting players and holding band camps; the Johnsons, leading a movement backed by chancellor Philip Dubois, were still raising money for not only a band but a building to house it.
Yet this week and next, the Niners will march in the celebrated footsteps of ensembles from Ohio State University, the University of North Texas and Iowa State University. UNCC's progress from baby steps to seven-league strides caught the ear of retired Master Gunnery Sergeant Earl Hurrey, who picks bands and choirs for D-Day ceremonies after conferring with military experts and music educators.
He says he was "specifically looking for a university band from the North/South Carolina area for 2018. I like using younger programs, because they often have the greatest enthusiasm for these events; it helps establish their programs and provides great incentive for their programs to grow. I have great confidence UNCC….will provide appropriate and dignified performances for our ceremonies."
At 3 p.m. Eastern time, Wednesday, June 6, tune into a live stream presentation "Origins of Opportunity." This webcast will provide coverage of the band's performances in France and the reactions and perspectives of UNC Charlotte students.
CCI Student Band Members Participating:
Zachary Aranyi, Senior Colorguard – CS
Paul Atkins, Junior Drumline/Snare – CS
Carson Bannister, Freshman Drumline/Tenors – CS
John Barham, Freshman Drumline/Snare – CS
Jocelyn Bowser, Freshman Mellophone – CS
Benjamin Cawthon, Sophomore Trumpet – SIS
Blaine Fernandez, Junior Drumline/Cymbals – CS
Keith Hassel, Sophomore Trombone – CS
Edward Robinson, Freshman Drumline/Snare – CS
Matthew Rossi, Freshman Clarinet – CS
Ryan Wolverton, Junior Trumpet – CS
For more News, Notes and Updates, Follow Us on Twitter @UNCC_CCI