CCI Team Wins Big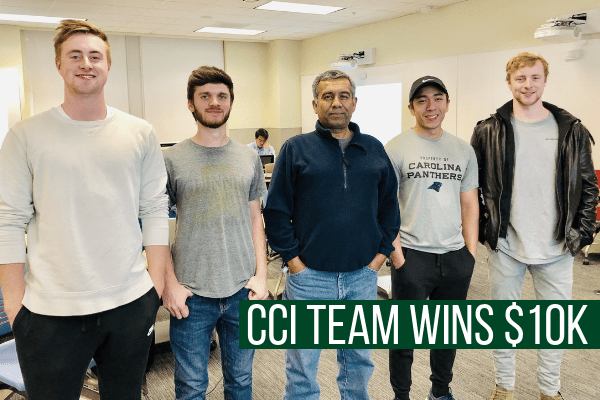 On November 14th, a team of students from UNC Charlotte's College of Computing and Informatics (CCI) walked away with the top prize – $10,000 cash and a $500 credit from Amazon Web Services – at the 2018 University Fintech Hackathon. For three months and through several elimination rounds, the CCI squad competed against more than 150 students on teams from Duke, Elon, Appalachian State, Davidson, NC State, UNC Chapel Hill and Wake Forest to become one of three finalists presenting at the Southeast Fintech Ventures Conference (SFVC). Emerging victorious, the team further validated the exceptional work being conducted at CCI.
In addition to facing months of work, presentations and risk of elimination leading up to the finals, competitors were asked to solve a real-world problem and express creativity while developing a unique solution using the latest technologies.
The team from CCI responded to the call for a way to better personalize the banking experience.
Embracing the challenge as a project in its Blockchain System Architecture Course, the team of Jonathan Byrne, Lukas Gupta-Leary, Loi Fung, Liam Byrne and Luke Deviney was advised by adjunct professor Dr. Atif Farid Mohammad, a Senior Data Scientist with Catasys and Chief Scientist Advisor with NAiTech specializing in Blockchain and Artificial Intelligence.
Even with our country's surging (albeit naïve) fascination with cryptocurrencies, there have been no good solutions available to cryptocurrency users who want to spend their digital assets on goods and services.
Until now.
Enter the CCI squad with its creation: WADS. A multi-dimensional platform, WADS allows cryptocurrency users to pay for goods and services without lengthy wait times and high exchange fees. "WADS helps bridge the gap where cryptocurrency viability faces a huge amount of skepticism," says Priyanka Sharma, Mohammad's teaching assistant. "It's innovative and the business model is well defined."
Presenting WADS (think: wads of cash) from the main stage as finalists at the SFVC, an annual gathering of industry leaders, the team faced off against another UNC Charlotte crew and a team from Davidson before the judges awarded them the top prize.
"Developing WADS has been an exceptional experience, pulling late nights, and progressing through each stage to the hackathon final," says Gupta-Leary. "Being recognized for our work was a fantastic achievement and reassurance that we are developing something meaningful. I believe we all would continue to work on this no matter the outcome of the hackathon."
In fact, the team is continuing its work on the WADS platform, pursuing a partnership with a credit issuer to gain access to its application programming interface (API) and have WADS ready or an official launch early in 2019.
For more on WADS, visit wads.io
For more News, News and Updates, Follow Us on Twitter @UNCC_CCI