CCI Wins at Blue Diamond Awards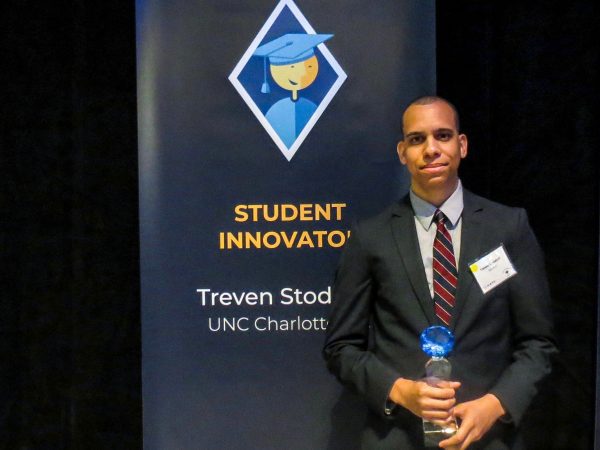 On April 4th, the Charlotte Area Technology Collaborative (CATC) held its annual Blue Diamond Awards at Founder's Hall. UNC Charlotte's College of Computing and Informatics (CCI) was well represented with current student Treven Stoddard as well as Stratifyd, CCI PH.D. alumnus Derek Wang's company, winning Blue Diamonds.
Stoddard, a senior computer science major, recently received the Blue Diamond Student Innovator Award for developing an application to assist algebra and calculus students.
Stoddard's creation, Genubot, utilizes machine learning software "to pinpoint a user's mistake and identify steps for improvement, all while being interactive and tailored to the user learning experience." Machine learning is defined as the scientific study of algorithms and statistical models that computer systems use to perform a specific task; it is considered a subset of artificial intelligence.
Stoddard said the genesis of his application resulted from his freshman calculus class.
"My teaching assistant struggled with giving students additional assistance with math equations," he explained. "After asking around, I realized many students were dropping out of STEM-focused majors due to the frustration of algebra and calculus."
The computer science major began working on his innovative application in spring 2018 after joining UNC Charlotte's Ventureprise Launch NSF I-Corps program. He also was a member of the 49er Foundry, a business incubator for UNC Charlotte students.
Devin Collins, interim executive director of Ventureprise, nominated Stoddard for the Blue Diamond Award, which recognizes the Charlotte region's technology innovation and talent. Ventureprise is the University's innovation and entrepreneurship center serving the campus and Charlotte region
"We were excited to see Treven receive recognition for all of his hard work. He experienced a problem, conducted customer discovery with peers and then built a software solution. He's a true entrepreneur," said Collins. Fatma Mili, dean of UNC Charlotte's College of Computing and Informatics, presented Stoddard with the Blue Diamond Award.
Stoddard currently is participating in the MIT Mentoring Program offered by Innovate Charlotte as he continues to work on Genubot.
Stratifyd earned its Blue Diamond in the Cool Innovation category, the same category CCI's Video Collaboratory won in 2018.
Stratifyd reduces the friction and time for organizations to build AI projects and helps streamline and automate workflows, which allows insight-driven decisions to be made in real time to improve products and services, increase revenue, and better retain and acquire customers.
"I'm grateful to be recognized for our innovation," says Wang. "We've come so far since we launched in 2015 and we're proud of the amazing strides we've made as a team. We're a family, and our success is because of the efforts of every single person at the company.
"We're constantly searching for ways to push boundaries in the customer analytics space. Looking towards the future, our goals are to empower more enterprises to leverage AI as infrastructure and continue to support Charlotte's growing tech community."
Other winners included American Tire Distributors, which took home three Blue Diamonds, Mecklenburg County, CloudGenera and the Comdyn Group.
For more information on the Blue Diamond Awards, CLICK.
For More News, Notes and Updates, Follow CCI on TWITTER.