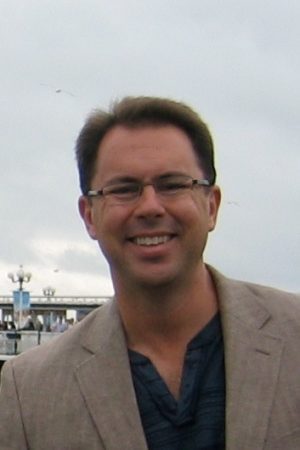 Cory Brouwer
Director of Bioinformatics Services Division and Professor
Degree Institution: Iowa State University
Degree: Ph.D. Molecular Biology
Dr. Cory R. Brouwer is Director of the Bioinformatics Services Division and Associate Professor of Bioinformatics and Genomics at UNC Charlotte. He and his team provide a wide range of bioinformatics and computational biology services to the NCRC, UNC Charlotte and surrounding area life sciences community. Some recent projects have involved de novo assembly of genomes and transcriptomes using next generation sequencing, clinical association studies and comparative genomics. Before coming to UNC Charlotte, Dr. Brouwer was leading a global computational biology group for the pharmaceutical company Pfizer out of their Sandwich, UK research campus located southeast of London. During his tenure at Pfizer, he led various efforts in data integration, text mining, collaborative knowledge building and scientific software development supporting genomics and systems biology. He also was an active promoter of pre-competitive collaboration within the pharma industry and was Co-chair of the Knowledge and Information Services domain of the Pistoia Alliance, a cross-pharma precompetitive standards organization. He joined Pfizer from Curagen Corporation, where he led software projects in the area of gene expression, proteomics and toxicoinformatics. Dr. Brouwer gained his AgBio experience at Pioneer Hi-Bred, Intl, Inc. working as a computational biologist focusing on genetics and comparative genomics. Dr. Brouwer received his Ph.D. in Molecular Biology from Iowa State University under the direction of Dr. Ben Bowen studying the effects of nuclear matrix attachment regions on transgene expression in maize.
Publications:
Campbell S A, Gaulton A, Marshall J, Bichko D, Martin S, Brouwer C and Harland L. (2009) Visualizing the drug target landscape. Drug Disc Today. 15:3-15.
Barnes M R, Harland L, Foord S M, Hall M D, Dix I, Thomas S, Williams-Jones B I, Brouwer C R. (2009) Lowering industry firewalls: pre-competitive informatics initiatives in drug discovery. Nat Rev Drug Discov. 8:701-708.
Giot L, Bader J S, Brouwer C, Chaudhuri A, Kuang B, Li Y, Hao Y L, Ooi C E, Godwin B, Vitols E, Vijayadamodar G, Pochart P, Machineni H, Welsh M, Kong Y, Zerhusen B, Malcolm R, Varrone Z, Collis A, Minto M, Burgess S, McDaniel L, Stimpson E, Spriggs F, Williams J, Neurath K, Ioime N, Agee M, Voss E, Furtak K, Renzulli R, Aanensen N, Carrolla S, Bickelhaupt E, Lazovatsky Y, DaSilva A, Zhong J, Stanyon C A, Finley Jr. R L, White K P, Braverman M, Jarvie T, Gold S, Leach M, Knight J, Shimkets R A, McKenna M P, Chant J, Rothberg J M. (2003) A protein interaction map of Drosophila melanogaster. Science. 302:1727-1736.
Brouwer, C., Bruce, W., Maddock, S., Avramova, Z., and Bowen, B. (2002) Suppression of transgene silencing by matrix attachment regions in maize: A dual role for the maize 5′ ADH1 matrix attachment region. Plant Cell. 14:2251:2264.
Sharopova, N., McMullen, M., Schultz, L., Schroeder, S., Sanchez-Villeda, H., Gardiner, J., Bergstrom, D., Houchins, K., Melia-Hancock, S., Musket, T., Duru, N., Polacco, M. L., Edwards, K., Ruff, T. G., Register, J. C., Brouwer, C. R., Thompson, R. D., Velasco, R., Chin, E., Lee, M., Woodman-Clikeman, W., Long, M. J., Liscum, E., Cone, K. C., Davis, G., Coe, E., Jr., (2002) Development and mapping of SSR markers for maize. Plant Mol. Bio. 48:463-481.
Casa, A., Brouwer, C., Nagel, A., Wang., Zhang, Q., Kresovich, S., Wessler, S., (2000) The MITE family Heartbreaker (Hbr): Molecular markers in maize. PNAS. 97:10083-10089.
Andersen, J. J., Brouwer, C., Kosslak, R. M., and Palmer, R. G. (1997) Inheritance of two unknown EMS generated root fluorescence mutants. Soybean Genetics Newsletter. 24:168-169.