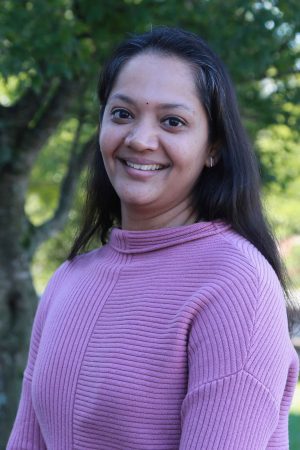 Harini Ramaprasad
Associate Dean, Undergraduate Programs and Student Success
Personal Website: http://webpages.charlotte.edu/hramapra/ Degree: Computer Science
Education: Ph.D., Computer Science, North Carolina State University, 2008 Research Areas: Real-time Embedded Systems, Computer Science Education
Brief Biography: Dr. Ramaprasad's research interests are in the areas of real-time embedded systems, cyber-physical systems, operating systems and computer science education. Recent research work has been in the area of enabling predictable execution of communicating, mixed-criticality task sets on multi-core architectures (real-time embedded systems) and on enhancing cybersecurity education through inclusive, engaging learning modules (CS education). Her teaching interests include operating systems, real-time systems, software systems design and implementation, computer architecture, and database systems.
Harini Ramaprasad is currently a Teaching Professor and Associate Dean for Undergraduate Programs and Student Success for the College of Computing and Informatics of the University of North Carolina at Charlotte. Previously, she served as the Director of Undergraduate Programs for the College. Prior to coming to UNC Charlotte, she was an Assistant Professor in the Department of Electrical and Computer Engineering at Southern Illinois University Carbondale. She received her Ph.D. from North Carolina State University in 2008. She is a member of IEEE, ACM and SWE.