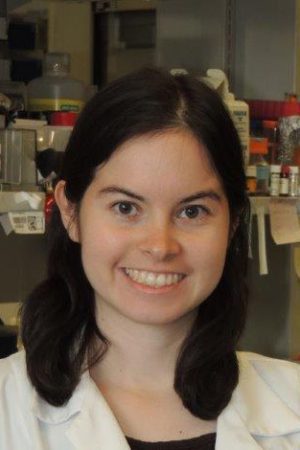 Kathryn Winglee
Postdoctoral Researcher
Degree Institution: John Hopkins University
Degree: PhD – Cellular and Molecular Medicine 2015
Dr. Winglee earned a B.S. in Microbiology and a B.S. in Computer Science from the University of Washington. She earned her Ph.D. in Cellular and Molecular Medicine from Johns Hopkins University, where her research focused on sequencing clinical isolates of Mycobacterium tuberculosis and Mycobacterium africanum, and on the interaction between the microbiome and M. tuberculosis. She is now a Postdoctoral Fellow in the lab of Dr. Anthony Fodor. She is interested in bacterial genetics, tracking disease outbreaks through whole genome sequencing, and the role of the microbiome in disease.
Publications:
1. K Winglee, A Manson McGuire, M Maiga, T Abeel, T Shea, CA Desjardins, B Diarra, B Baya, M Sanogo, S Diallo, AM Earl, WR Bishai. Whole Genome Sequencing of Mycobacterium africanum strains from Mali provides insights into the mechanisms of geographic restriction. PLoS Neglected Tropical Diseases 2016; 10(1):e0004332.
2. K Winglee, A Fodor. Intrinsic association between diet and the gut microbiome: current evidence.Nutrition and Dietary Supplements 2015; 7:69-76.
3. K Winglee, S Lun, M Pieroni, A Kozikowski, WR Bishai. Mutation of Rv2887, a marR-like gene, confers Mycobacterium tuberculosis resistance to an imidazopyridine-based agent. Antimicrobial Agents and Chemotherapy 2015; 59(11):6873-81.
4. A Kubler, C Larsson, B Luna, B Andrade, EP Amaral, M Orandle, K Bock, N Ammerman, M Urbanowski, L Cheung, K Winglee, M Halushka, J Park, A Sher, J Friedland, P Elkington, W Bishai. The Collagenase Cathepsin K is Associated with Cavitation and Collagen Turnover in Pulmonary Tuberculosis. Journal of Infectious Diseases 2015.
5. S Lun, D Miranda, A Kubler, H Guo, MC Maiga, K Winglee, S Pelly, WR Bishai. Synthetic lethality reveals mechanisms of Mycobacterium tuberculosis resistance to β-lactams. mBio 2014; 5(5):e01767-14.
6. A Kubler, B Luna, C Larsson, NC Ammerman, BB Andrade, M Orandle, K Bock, Z Xu, U Bagci, D Mollura, J Marshall, J Burns, K Winglee, B Ahmadou Ahidjo, L Cheung, M Klunk, S Jain, NP Kumar S Babu, A Sher, JS Friedland, PTG Elkington, WR Bishai. Mycobacterium tuberculosis dysregulates MMP/TIMP balance to drive rapid caviation and unrestrained bacterial proliferation. Journal of Pathology 2014; 235(3):431-44.
7. K Winglee, E Eloe-Fadrosh, S Gupta, H Guo, C Fraser, W Bishai. Aerosol Mycobacterium tuberculosis infection causes rapid loss of diversity in gut microbiota. PLoS ONE 2014; 9(5):e97048.
8. S Gupta, KA Cohen, K Winglee, M Maiga, B Diarra, WR Bishai. Efflux inhibition with verapamil potentiates bedaquiline in Mycobacterium tuberculosis. Antimicrobial Agents and Chemotherapy 2014; 58(1):574-6.
9. K Takaki, JM Davis, K Winglee, L Ramakrishnan. Evaluation of the pathogenesis and treatment ofMycobacterium marinum infection in zebrafish. Nature Protocols 2013; 8(6):1114-24.
10. M Maiga, S Lun, H Guo, K Winglee, NC Ammerman, WR Bishai. Risk of tuberculosis reactivation with tofacitinib (CP-690550). Journal of Infectious Diseases 2012; 205(11):1705-8.
11. KN Adams, K Takaki, LE Connolly, H Wiedenhoft, K Winglee, O Humbert, PH Edelstein, CL Cosma, L Ramakrishnan. Drug tolerance in replicating mycobacteria mediated by a macrophage-induced efflux mechanism. Cell 2011; 145(1):39-53.
Research Areas: