Fast Five with Maggie Reichard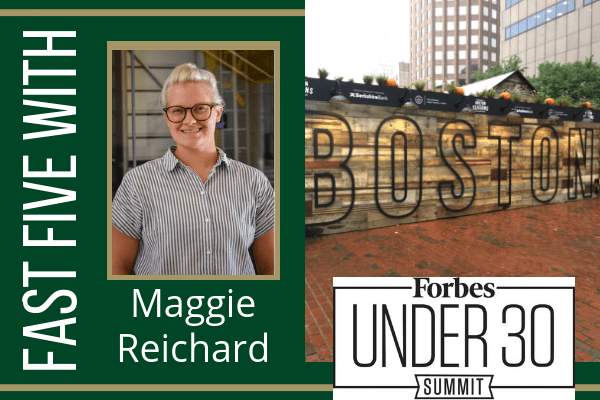 Fast Five with Maggie Reichard
In October, Maggie Reichard, a UNC Charlotte College of Computing and Informatics (CCI) senior, attended the fifth annual Forbes Under 30 Summit in Boston. Presented by JPMorgan Chase & Co., the Summit brings together more-than 7,000 young entrepreneurs, visionaries and disruptors for an immersive experience. The Summit serves as the definitive place to learn, network, collaborate, recruit and exchange ideas of the future. In addition, a world-class roster of diverse speakers punctuates the two-day event. This year's presenter list included entertainer Cardi B; former Secretary of State, John Kerry; AOL cofounder, Steve Case; former White House Communications Director, Anthony Scaramucci and many more.
Reichard, who will graduate in May 2019 with a Cybersecurity concentration and minors in both Math and Computer Engineering, shared her adventure with us for this installment of Fast Five.
How was it that you were invited to the Forbes Under 30 Summit?
I found out about the event through my fellowship, Rewriting the Code. I have always been fascinated by Forbes Under 30, so it seemed like an incredible opportunity. I filled out the application for its scholars program and didn't hear anything for a few weeks. I assumed that I had not been selected, but then I got an email from the coordinator extending me an invitation!
Before you went, what were you most excited about?
I was really unsure of what to expect. I chose "AI + Machine Learning" as my content track, so I was looking forward to hearing from professionals in that field. I was also excited to explore the Boston area during the conference.
Once there, and having had time to reflect, did that change?
At the Summit, I was impressed by how well the speakers in my track addressed issues in the field. The talks also involved professionals from varied fields, including quantum computing and economics. Hearing about the broader impacts of tech concepts was particularly interesting to me. After reflecting on my experience, the most exciting experiences were those that I did not anticipate, particularly involving speakers outside of my content track. I listened to panels with actors, former Olympians, and politicians, and one of my favorites was given by a former employee of Cambridge Analytica.
Had you been to Boston before?
I have family that used to live in New Hampshire, so I have been to Boston several times. However, the experience was different as I was alone on this trip. I really loved the influence of history in the city, and the ability to easily explore different neighborhoods. I was definitely surprised by the convenience of public transportation, which made traveling in the area much easier than I had expected. During the conference, I attended tours at the Museum of Fine Arts, talks near City Hall, and explored Harvard's campus as well.
What experiences from the Summit will carry with you?
My favorite part of the conference was getting to meet so many talented and intelligent individuals. I got to know dozens of past and current listmakers, and met other attendees who are doing incredible work. One of the coolest experiences was a private tour of The Engine, MIT's incubator for breakthrough tech startups. The tour introduced us to the different startups, which operated in diverse areas from autonomous driving to data transfer in space. We were also given a tour of the building, so it was interesting to see the different labs for the startups.
Looking back, I will definitely carry with me the many connections I made, and remain in contact with.
For more on Forbes Under 30, CLICK.
For More News, Notes and Updates, Follow Us on Twitter @UNCC_CCI.