Inaugural Event Raises >$30K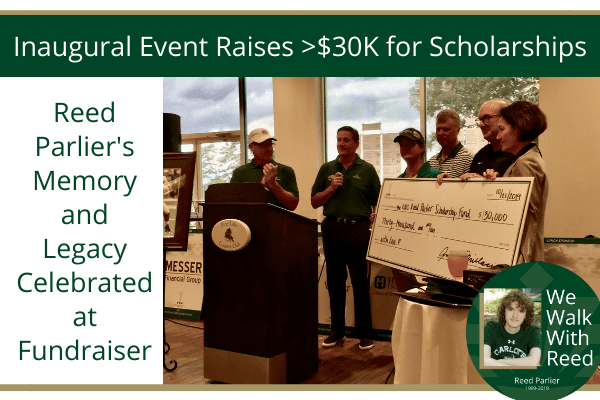 On Monday, October 21, 2019, the inaugural Chipping in For the Ellis Reed Parlier Scholarship Fund Golf Tournament was played at Pine Lake Country Club in Mint Hill, N.C. The event, featuring a full field of 144 golfers, raised more than $30,000 for scholarships established in memory of Ellis "Reed" Parlier.
Parlier, a UNC Charlotte College of Computing and Informatics (CCI) student, was killed during the tragic campus shooting on April 30, 2019.
Many in attendance wore the same "We Walk with Reed" buttons that UNC Charlotte students wore on their caps and gowns at commencement exercises in May.
Organizers say Chipping in Fore provides, "hope, financial and other support to families and individuals, especially in the Matthews-Mint Hill area."
The Parlier family, members at Pine Lake CC for many years, were touched by the outpouring of support from their community – and beyond. Brian, Reed's father, in an interview with WCNC-TV, said, "I can't say enough about the community and how they have come out to support us, and Reed."
In addition to the sold-out field of golfers, title sponsors Dick's Sporting Goods and Messers Financial were joined by more than 30 additional sponsors and local businesses, many of which also made donations of items and services for the silent auction.
Auction items included Charlotte Checkers tickets and autographed items from sports icons Dabo Swinney, Joe Montana, Dwight Clark and Lawrence Taylor, as well as front row seats to the Charlotte Hornets opening-night game.
All proceeds from the tournament and auction will go directly to the scholarship fund, which celebrates Parlier's life and interests.
Niles Sorenson, UNC Charlotte's Vice Chancellor for University Advancement, says, "[Parlier's parents] established the Ellis Reed Parlier Scholarship Fund as part of our Gold Rush Grant program, which provides funding to seniors at UNC Charlotte to encourage them to complete their degrees. The UNC Charlotte Foundation matches all gifts to the Gold Rush grant program, so [the event's] contribution of $30,000 will be matched by the Foundation with an additional $30,000 to the scholarship named in Reed's honor."
Note: If interested in contributing to the Ellis Reed Parlier Scholarship Fund, VISIT.
For More News, Notes and Updates, Follow Us on Twitter.