Location. Location. Location.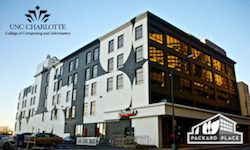 The Data Science Initiative (DSI) has negotiated with Packard Place to develop a partnership and a new satellite site for the DSBA graduate programs. As of June 1, 2018, DSI secured a new classroom space in the uptown Charlotte facility. In fall of 2018, four courses will be shifted to the new facility as part of soft rollout, with the intent to add additional courses in the spring semester.
Packard Place – located at 222 Church Street – is a hub for like-minded entrepreneurs sharing skills and business opportunities in Charlotte. Serving as a community center for entrepreneurial activity in the heart of the city, it allows access to technology, education, and hands-on assistance to help business partners and start-ups design, build, market, and deliver innovation and solutions.
DSI pursued this partnership because a key tenet for the program is community engagement. By hosting classes in the space, students and faculty will be embedded in an entrepreneurial environment. They will have direct access to startups, potential collaborators, mentors, and employers. Packard Place is a co-working space for technology innovators and business start-ups. The space provides access to technology, education, startup expertise, and hands-on assistance to incubate new business and technology solutions. In addition to classes, the DSI plans to host a series of open houses and social events for current students and alumni, and information sessions for prospective students.
To learn more about Packard Place, visit: packard.place
For More News, Notes and Updates, Follow Us on Twitter: UNCC_CCI