CCI Junior Wins Kathy Harris Award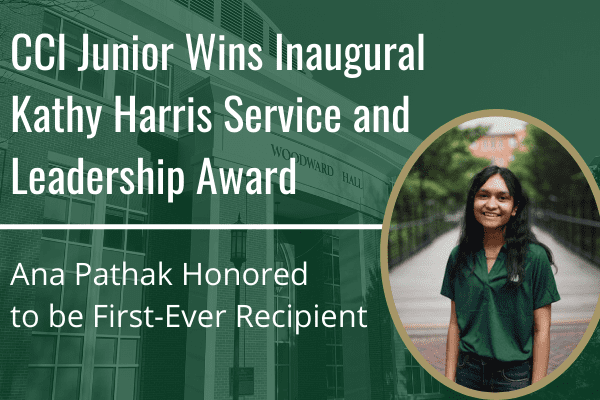 Ana Pathak, a junior Computer Science major from Cornelius, N.C., has been named the inaugural recipient of an award established to honor the memory and legacy of Kathy Harris.
The Kathy Harris Service and Leadership Award honors and encourages the next generation of female technology leaders who exhibit the traits Kathy held throughout her life including leadership and service to the community.
Harris, who passed away in 2020, was an accomplished technology leader, change maker, innovator and advocate for broad and meaningful diversity in technology. As a pioneer in the Charlotte technology community, Kathy overcame many barriers associated with being a woman in the information technology industry. Perhaps her greatest accomplishment was to be a mentor and role model to many young women in science, technology, engineering and mathematics (STEM); establishing herself as an important member of several technology and educational organizations including NC Technology Association (NCTA), Women in Science and Engineering (WISE) program, SIM Charlotte Chapter, and the School of Physical and Mathematics Sciences at NC State. Kathy's involvement within the College of Computing and Informatics (CCI) spanned more than 20 years and included multiple speaking engagements, being a consistent benefactor toward the mission, and service as member and chair of the CCI Dean's Advisory Board.
The award will be a lasting legacy to the ideals, spirit, and service that Kathy brought to everything she did.
Pathak, a transfer to UNC Charlotte from Appalachian State, was nominated by her academic advisor, Ryan Mulkeen. "I was happy to nominate Ana," Mulkeen says, "not only for her strong academic performance and curiosity, but also her contributions to the CCI community and UNC Charlotte."
Pathak says that coming to UNC Charlotte changed her life and wants to give back by mentoring others, especially women and other underrepresented minorities in computing.
"I have grown so much as a person and am now trying to take advantage of the many opportunities UNCC gives its students to grow," she says.
After she finishes her schooling at CCI, Pathak says her dream is to work with various types of technology, "in a way that I can give back to the community and be a part of something bigger than myself.
"To receive the first Kathy Harris Award is a huge honor. She embodied everything I strive to be and is a role model whose legacy will continue to inspire me to be the best version of myself and keep growing."
—-
To learn more or make a gift to the fund, please contact Brian Peck (brian.peck@uncc.edu)