CCI Professor Featured in AAAS Report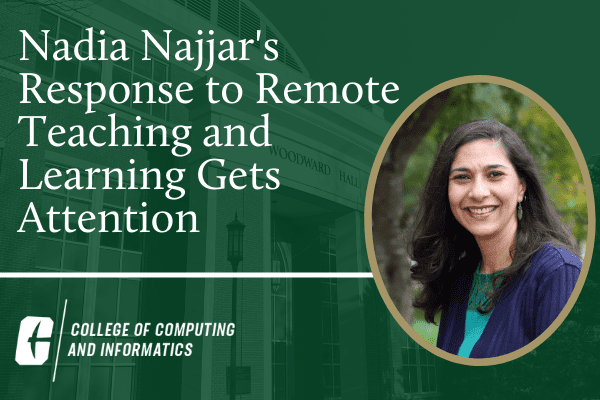 The innovative work of UNC Charlotte College of Computing and Informatics (CCI) Assistant Teaching Professor Nadia Najjar was featured in a January report from the American Association for the Advancement of Science (AAAS). Published as part of a study funded by the National Science Foundation (NSF), Promising Practices examines how educators have adapted to remote teaching during the COVID-19 pandemic – particularly in Science, Technology, Engineering and Math (STEM).
The push to remote learning at the onset of the COVID-19 pandemic presented educators with unprecedented challenges and no established best practices to draw on for solutions. For Najjar, being recognized by AAAS, "is reassuring as it indicates to us that we were moving in the right direction."
Najjar and CCI's approach to creating online lab environments is presented as an example of, "making the best out of a difficult situation and improving the way we teach and learn STEM."
In her Introduction to Computer Science course, prior to the pandemic, Najjar utilized pair programming in which pairs of students completed lab activities together in person and were required to work at the same pace throughout the entire lab. "During the pandemic, we structured the lab to allow for more flexibility," said Najjar. "The virtual lab space facilitated immediate connections between the participants in the lab, gave students the freedom to complete lab activities at their own pace, and allowed for collaboration with peers."
During the COVID crisis, there was an immediate need to be flexible, to pivot; to think and act differently. For many educators who had only ever taught one way, the shift was daunting. However, it also gave rise to innovative paths to success that had never before been considered and can now be applied moving forward.
"I feel that we've learned so much from this that we would be doing ourselves and our students a disservice to just go back to how things used to be," said Najjar. "One of things I feel we were forced to pay a closer attention to was course structure and design. We saw the value of creating robust but yet flexible courses in helping students succeed which makes it hard to believe that we won't want to make that part of our new normal."
Read the Complete AAAS Report HERE