CCI Q&A with Michael Ridenhour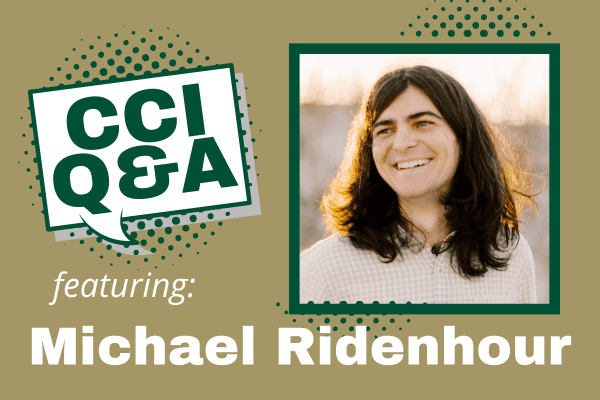 Michael Ridenhour, a Ph.D. candidate at UNC Charlotte's College of Computing and Informatics (CCI), came to CCI from Central Piedmont Community College (CPCC) where, like so many others, he honed his acadmic skills and his focus. Also and athlete and musician, Ridenhour credits his varied interests for helping him maintian a healthy lifestyle and perspective. Ridenhour sat down with CCI's Communications Office, and became the latest student featured in its CCI Q&A series.
Through your first research experience, you discovered that research is a creative activity and fell in love with it. How is it creative and what about it appeals to you most?
Research feels creative to me because of its process. In the context of writing music, the first step is extensive and intentional listening. You can then borrow, collage, and modify ideas from other musicians to make something new. If you're lucky, you find a gap that's been unexplored or neglected. Even then, there is no guarantee that your new song or style is good. You have to collect feedback and adjust. The research parallel I see is that we have a massive amount of literature we must read, ponder, discuss, and analyze prior to finding a small topic we can extend or investigate. Once we have an idea, we collect reviews and the feedback from collaborators helps us tune the work.
Outside the classroom and lab, you are a musician, but are also active in outdoor sports and activities. Does physical vigor help you as a computer scientist and as a person?
I do love outdoor sports and challenges. Being busy over the past few months has limited me from training for long distance running events, but the lessons from doing so in the past have certainly stayed with me. It takes quite a bit of commitment to run distances, and knowing I have been able to do these difficult things has done a lot for my confidence and willingness to take on challenges of all kinds. I've also learned that while these interests seem like individual activities, they are far from it. Training takes a team. Not only do you learn from other runners and train with them for accountability and camaraderie, but you also need support from your family and friends. I'm incredibly lucky to have an amazing support system that lifts me up in any pursuit be it training for a race or working on a research problem.
How is it that CPCC and CCI changed your life?
CPCC was an electric environment. I was surrounded by excellent, motivated students and engaging professors who inspired me. When I first got to CPCC, I was unsure of how I'd fare, but CPCC had small classes and accessible professors who were able to help me adjust to being a student. I had an amazing Intro to Programming course that I loved and is what made me decide to pursue Computer Science.
After I transferred, CCI was all that I'd hoped it would be. I was able to tune my craft and find opportunities to do interesting projects, as well as learn about and get involved in research. I feel incredibly grateful for CCI and my mentors here, who have given me chances to succeed. I love it here and am excited to see what CCI has in store for me as a Ph.D. student and as I continue to pursue a career in research.