Dean Mili Announces Resignation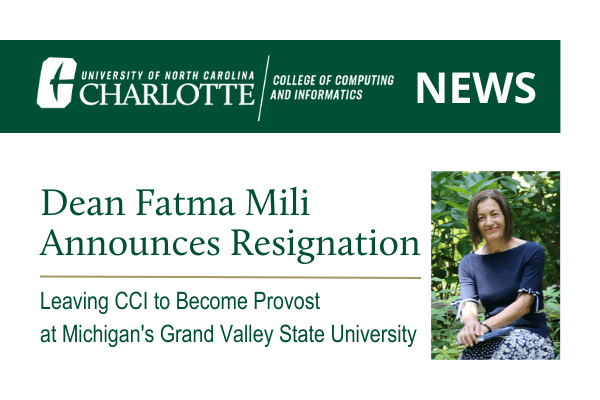 In a message to UNC Charlotte College of Computing and Informatics (CCI) faculty and staff, Dean Fatma Mili announced her departure at the end of this semester to become the Provost and Vice President for Academic Affairs at Grand Valley State University (GVSU) in Grand Rapids, Michigan.
Mili has been CCI's dean for nearly five years, a period marked by exceptional growth and success in all strategic metrics for both the college and university.
During her tenure, Mili built on the strength of the college's unique identity and culture to further broaden its reach and impact. Now producing more than 1,000 graduates a year, she has doubled the size of the alumni base, cemented CCI as the fastest-growing college in the UNC System, and guided its distinction as the most diverse computer science program in North Carolina.
"The unprecedented growth, retention, and success of our student body is a testament to CCI's innovative curricula and pedagogies, and to the exceptional commitment of its faculty and staff to the mission of access and excellence of UNC Charlotte," Mili said.
While at CCI, Mili also built on the faculty's robust research experience to grow collaborations to tackle the most critical and urgent issues our communities face. Research expenditures surpassed $10M per year as CCI and UNC Charlotte were nationally recognized for research on COVID and COVID-related issues. Mili stated: "Our researchers have shown exceptional agility and focus and exemplified what it means to be an Urban Research University."
Mili's most enduring legacy at UNC Charlotte may be her extraordinary leadership during difficult times. Mili provided stability and comfort throughout tumultuous periods of socio-political unrest, the aftermath of the April 30, 2019 campus shooting in which CCI student Reed Parlier lost his life, and the COVID-19 pandemic. She kept her focus firmly on the people of CCI – its students, faculty and staff.
"Having a strong sense of purpose and a compassionate culture enabled the college to navigate challenges with care, agility, and resilience," she said. "I cannot be more proud or grateful for how CCI faculty and staff rallied together to deliver our mission and keep our students and each other safe."
Mili will remain at CCI through the end of the spring semester and begin her new role at GVSU in July.
The appointment of an interim dean is forthcoming. No date is set yet for the formation of a search committee to identify her replacement.
—
About Grand Valley State University:
Grand Valley State University attracts more than 22,400 students with high-quality programs and state-of-the-art facilities. Grand Valley is a comprehensive university serving students from all across Michigan and dozens of other states and foreign countries. Grand Valley offers 97 undergraduate and 46 graduate degree programs and has campuses in Allendale, Grand Rapids and Holland. The university offers programming and classes from outreach centers in Battle Creek, Detroit and Traverse City; the Robert B. Annis Water Resources Institute and the Muskegon Innovation Hub are located in Muskegon. The university is dedicated to individual student achievement, going beyond the traditional classroom experience, with research opportunities and business partnerships.