Diversity
COLLEGE OF COMPUTING AND INFORMATICS: DIVERSITY AND INCLUSION
The College of Computing and Informatics at UNC Charlotte strives for equity and inclusion in computing and beyond. The College is committed to creating an environment that:
Expands and engages the participation of students, faculty, and staff that traditionally have not entered the computing field
Promotes the success of all of our students
Promotes the professional success of all members of all our faculty and staff
The College is driven by three declared values, the first of which is: To acknowledge inequity and do everything in our power to address it.
Upcoming events
CCI Cinema: The Imitation Game. On the occasion of National Coming out Day on October 11th, we invite you to join us to network, learn, and connect. CCI Equity and Inclusion Committee in partnership with LGBTQ+ Grad Coalition, Out in Tech Charlotte, and UNC Charlotte Alumni are showing a film screening of The Imitation Game.
October 11th, 5:30pm (reception), 6pm (panel), 6:45pm (movie screening), Woodward 106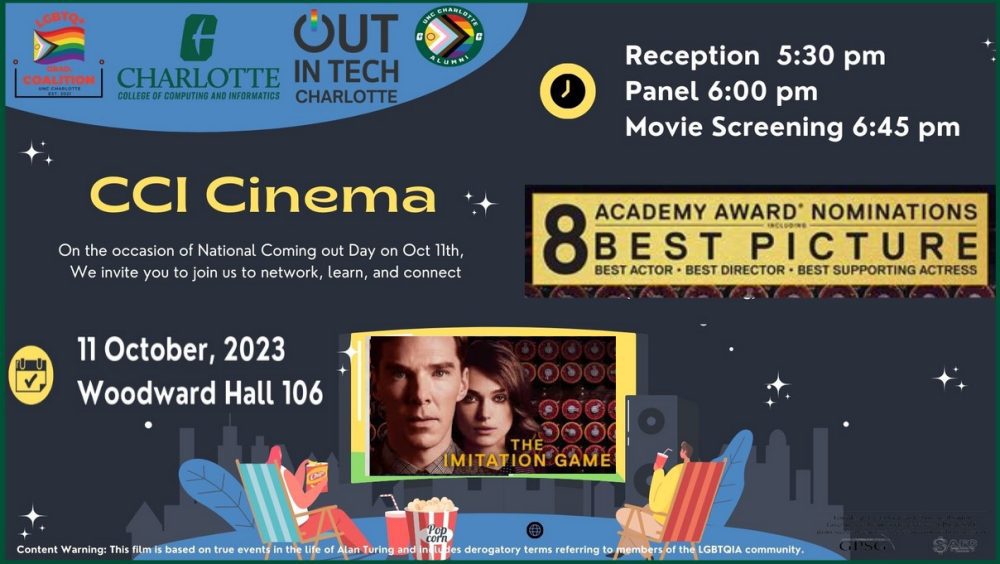 Fleurix Conference: CCI is proud to be a sponsor of The Fleurix conference! Fleurix will be held in Charlotte on October 19th at Lenny Boy Brewing Co. between 9am-4pm (the time will be confirmed soon by the event organizers). This conference celebrates women+ in technology. It's a wonderful networking and professional opportunity for women+ technologists from high school through women+ in professional fields. This conference has brought together over 400 people in past years.
Interested in attending? Apply for a free registration provided by CCI! Number of registrations are limited so please complete the form as soon as possible. UPDATE: Thank you for the huge response! Applications have been closed.
CCI Celebrates National Hispanic Heritage Month
What is the Hispanic Heritage Month:
The Hispanic Heritage Month is a month-long celebration of the history, culture, and contributions of Hispanic and Latine people. It is observed annually from September 15 to October 15. The dates were chosen to coincide with the independence days of several Latin American countries, including Costa Rica, El Salvador, Guatemala, Honduras, Nicaragua (September 15), Mexico (September 16), and Chile (September 18).
There are many ways to celebrate Hispanic Heritage Month. Some people attend festivals, concerts, and other cultural events. Others learn about Hispanic history and culture by reading books, watching movies, or visiting museums. There are even those who volunteer their time to help Hispanic communities. No matter how you choose to celebrate, Hispanic Heritage Month is a time to honor the rich and diverse heritage of Hispanic and Latino Americans.
Some interesting facts about the Hispanic Heritage Month:
The theme for this year is "Latinos: Driving Prosperity, Power, and Progress in America."
The month was first proclaimed as Hispanic Heritage Week by President Lyndon B. Johnson in 1968.
It was expanded to a month-long celebration by President Ronald Reagan in 1988.
Over 60 million Hispanic and Latinx people are living in the United States.
Hispanics and Latines are the fastest-growing ethnic group in the United States.
Hispanics and Latines have significantly contributed to American culture, politics, and society.
Upcoming events to celebrate:
September 27, 5:00 to 7:00 pm, Bioinformatics department (CIPHER's seminar room): This event will be a potluck for Hispanic Heritage Month organized by SACNAS (Society for Advancement of Chicanos/Hispanics & Native Americans in Science). We encourage students to bring their favorite national dish for everyone to share and have opportunities for socialization and community. Don't forget to RSVP and add what food you are bringing, if any, into this Potluck Dish spreadsheet.
October 2, 5:30 to 7 pm, Bioinformatics department (2nd floor lobby and room 218): Any individuals, regardless of their background or skill level in dance, are welcome to join DALE (Dancing Association for Latine Expression) in this event that will revolve around Samba.
October 4, 5:30pm, Bioinformatics Building, 4th Floor Seminar Room- In the Heights (film showing)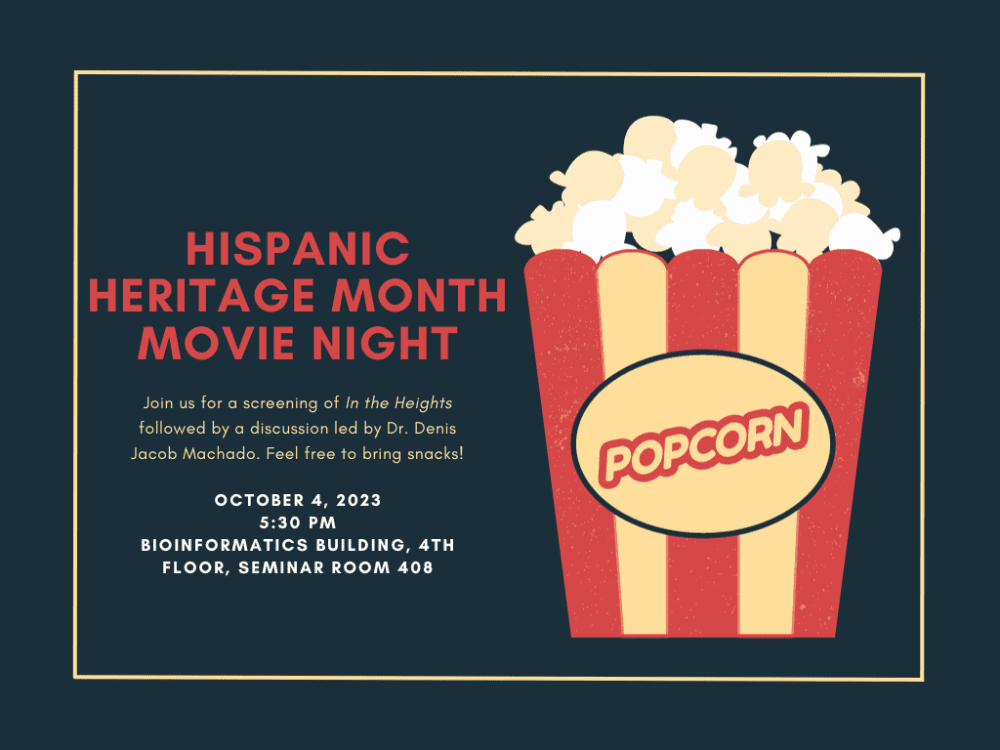 Indigenous land acknowledgements
A land acknowledgement is a statement used to recognize and affirm the long-lasting relationship between indigenous Peoples and their traditional land while also highlighting Indigenous histories and experiences. Here is UNC Charlotte's Indigenous Land and People Acknowledgment:
"With respect to the land and people who preceded us, the University of North Carolina at Charlotte acknowledges that we are on colonized land traditionally belonging to the Catawba, Cheraw, Sugeree, Wateree, and Waxhaw Peoples, all of whom have stewarded this land throughout the generations. Before this land was colonized and named the city of Charlotte, it was used as a place of meeting and trade by a diverse group of Indigenous peoples, including the Catawba, Cherokee, Congaree, and Saponi. We also acknowledge that the greater Charlotte region has directly profited from the enslavement and forced labor of African people and their descendants. We recognize that knowing, acknowledging, and honoring the history of the land and the people is only the first step. We must support and listen to Indigenous and Black voices, while continuing to address the policies and practices that perpetuate oppression."
We acknowledge inequity
Identifying, understanding, and documenting the many facets of inequity is essential to addressing it. The following projects contribute to the College's every-day effort to identify, understand, and document inequity:

Monitoring experience of our students, faculty, and staff
The College of Computing and Informatics is a member of the Computing Research Association (CRA) and participates in its annual Data Buddy survey. Undergraduate computing students: "Overall, I am satisfied with the computing program at my institution," where (1) Strongly disagree – (5) Strongly agree.
The College participates in the APLU Student Experience Project, the goal of which is to improve the students' experience – especially for under-represented groups. A baseline survey on climate and experience is run in 2019-2020.
Monitoring the success of our students
Understanding the inequity of experience. CCI creates and promotes several regular opportunities for deepening our awareness and understanding of inequity. For example:
College and department forums share data illustrating inequity of experience and discuss it.
Starting in 2019, the college began hosting a leadership retreat for student organizations' leadership teams.
A calendar of faculty and staff professional development opportunities is published every fall. Faculty and staff are encouraged to incorporate these in their annual professional development.
We do everything in our power to address inequity.