Dean Mili Recognized by Charlotte Business Journal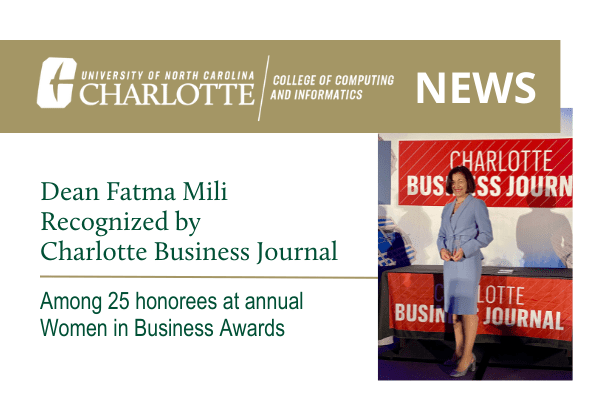 Fatma Mili, UNC Charlotte College of Computing and Informatics (CCI) dean, has been named a Charlotte Business Journal (CBJ) Women in Business award winner. According to its website, for more than 25 years, CBJ has annually recognized, "a group of trailblazers who are helping to shape the business and civic landscapes in the greater Charlotte region."
Mili, one of 25 honorees chosen by CBJ's editorial staff from a pool of more than 100 nominees, was selected for her work to connect CCI and the Charlotte business community, as well as her commitment to cultivating an exceptional and diverse workforce to serve the region.
"I am very honored and deeply touched by this award. It recognizes the unstoppable drive and continued innovation of my CCI colleagues at the service of our students, our communities, and our discipline," Mili said. "This award also embodies the very strong relationship between our college, the university and the Charlotte community."
Each award recipient was asked to share the one message they would convey to their 18-year-old selves, if they could time travel to do so. For Mili, who is stepping down at the end of the spring semester to become provost at Grand Valley State University in Grand Rapids, Michigan, the assignment was particularly poignant.
"You will move a lot," she said. "Sometimes it will feel like you are uprooting yourself over and over. Don't think about it that way. You will be seeding and cultivating multiple roots. At every place, invest in those around you, harvest meaningful relationships, nurture and care for them for life. These are your roots."
Enhancing the honor for Mili was receiving the award from her colleague, Jennifer Troyer, dean of the Belk College of Business, who served as a presenter at the February 24, 2022 event, held at the Charlotte Marriott City Center.