CCI Celebrates Achievement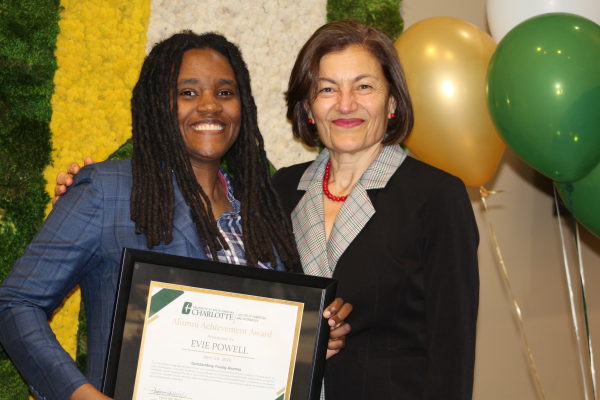 Charlotte, N.C. – April 20, 2022
For the first time in two years, UNC Charlotte's College of Computing and Informatics (CCI) gathered in person to celebrate its top students and alumni. Held in the Salons in the Barnhardt Student Activity Center, the event recognized students who made the Dean's and Chancellor's Lists for the fall 2021 semester, students who earned scholarships, and also marked CCI's first-ever class of Alumni Award recipients.
After a welcome delivered by CCI Dean Dr. Fatma Mili; Dr. Bojan Cukic, Associate Dean for Student Success and recently named Interim Dean for CCI, presented the Dean's and Chancellor's Lists.
Of CCI's 2,377 undergraduate students in the fall of 2021, 965 made either the Dean's or Chancellor's List; 40% of the college's total undergraduate population.
To qualify as one of CCI's 476 Dean's List honorees, a student must have been in good academic standing and earned a grade point average of at least 3.4 and not more than 3.79 in 12 or more credit hours graded A, B, or C, with no grade less than a C.
To qualify as one of CCI's 489 Chancellor's List honorees, a student must have been in good academic standing and earned a grade point average of at least 3.8 in 12 or more credit hours graded A, B, or C, with no grade less than C.
Following Cukic, Dr. Harini Ramaprasad, Teaching Professor and Director of Undergraduate Programs, recognized CCI's nearly 110 scholarship recipients and thanked the individuals, families and organizations that provide scholarship funding, including AvidXchange, Brighthouse Financial, past or present members of the CCI Advisory Board, SIM Charlotte, Duke Energy, Tom and Judy Fisher Family, Roger and Michele Shaul Family, Paul and Hugh Edward Gray Family, Lawrence Mays Family, TIAA, Unisys, Oracle and Segra.
To close the program, Associate Dean Dr. Bill Tolone, introduced CCI's first class of six Alumni Award recipients in five categories.
Outstanding Young Alumna – Evie Powell
Dr. Powell is a game developer, researcher and enthusiast, based in Seattle, WA.. She has an extensive background in AR/VR and has had a career-long focus on next generation computing, including natural user interfaces, spatial computing, immersive technologies, and pervasive & context aware systems. She is currently at Niantic, a software development company that brought us all Pokemon Go, among other titles. Dr. Powell completed her Ph.D. at UNC Charlotte in 2007.
Outstanding Young Alumna – Hui Wu
Dr. Wu is a manager and research scientist at the Hybrid Cloud Organization at IBM Research. She is the technical lead for Data & AI Research innovations for multi-cloud and distributed cloud applications. She has over 20 published papers, is active with ECCV, ICCV, and CVPR. Dr. Wu is a 2015 graduate of UNC Charlotte.
Outstanding Community Service – Elizabeth Austin
Prior to her retirement in 2021, Elizabeth led a global IT organization for Curvature, an IT services company. Elizabeth held the CIO position for 7 years. In that time, she successfully led the business through a massive merger of two very different business models, disparate platforms and applications.
Elizabeth was named Charlotte CIO of the Year ORBIE Winner – in the corporate category in 2020.
Austin holds a BA in Business Administration from UNC Charlotte.
Outstanding Community Service – Paul Bates
Paul is a Principal Customer Engineer at Microsoft where he has been employed for the past 30 years, holding various Technical Leadership Roles serving Fortune 500 companies. He has authored or coauthored customer workshops on debugging and development, knowledge base articles, and zero-day exploits. Bates holds a BS in Mathematics, MSc in Information Technology Management, and MBA in Technology management as well as various technical certifications.
Alumni Achievement – Tareq Amin
Tareq Amin is the Chairman and Co-founder of Defiance Ventures. His key roles within the organization include business development, strategy and advisory services focusing on network infrastructure, data centers/hosting, network security, cybersecurity and early-stage investments.
In addition to serving on CCI's Dean's Advisory Board, Amon is also a board member for Swyft Inc., a software and technology services company that sells, manages and/or operates unattended retail solutions. Amin is a 2002 Computer Science graduate from UNC Charlotte.
Honorary Alumnus – Roger Shaul
Roger is CEO of PMMC, a company he founded 36 years ago that now serves over 500 hospitals throughout the country with financial software and consulting services. An entrepreneur with a social mission, Roger has served the CCI Dean's Advisory Board for 10 years, was elected chairman for 3 years, and served with Elizabeth Austin on the Student Success Committee.
Roger holds a Master's and Undergraduate degrees from the University of Florida and has participated in executive education programs from Harvard, Yale, MIT, London School of Economics and the University of North Carolina at Chapel Hill.
CLICK for a gallery of images from the event, courtesy of Stephanie Navarro and Brian Peck.