CCI Faculty/Staff Awards Luncheon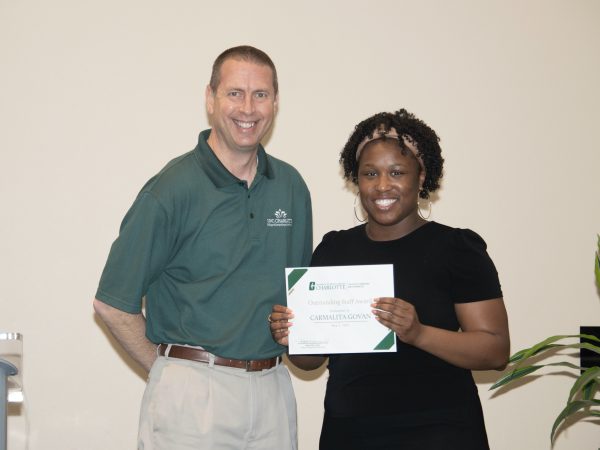 On May 2, UNC Charlotte's College of Computing and Informatics (CCI) gathered in the Barnhardt Student Activity Center Salons for its Faculty/Staff Awards Luncheon. The annual event is a celebration of all things CCI – past, present and future.
This year's edition provided an opportunity for many in the CCI family to say goodbye to Dean Fatma Mili, who is leaving CCI at the end of the semester to become the Provost at Grand Valley State University (MI). Despite insisting the day not be about her, the program closed with words of appreciation and a gift for Mili from now-interim dean Bojan Cukic. Intended to keep Mili warm in Michigan, the UNC Charlotte blanket is to also serve, "as a reminder of CCI, its people and the appreciation we all have for [her] leadership over the past five years." Cukic drew inspiration from Charles Schulz' Peanuts character Linus, who was never without his own blankie.
In addition to the fun and fellowship, an always-anticipated highlight is the recognition of faculty promotions and award winners. See below for a complete list.
Faculty Promotions:
Promotion to Associate Professor with Tenure: Samira Shaikh, Way Sung, and Rebekah Rogers
Promotion to Full Teaching Professor: Dale-Marie Wilson
Promotion to Associate Teaching Professor: Julio Bahamon
Research Awards:
Way Sung received the James H. Woodward Faculty Research Award
Aidong Lu and Anthony Fodor recieved the Lawrence Mays Research Faculty Award
Faculty/Staff Awards:
Outstanding Research Award: Mary Lou Maher
Essam El-Kwae Student-Faculty Research Award: Dong Dai and his student, Di Zhang
Excellence in Graduate Teaching Award: Dave Wilson
Excellence in Undergraduate Teaching Award: Nadia Najjar
Outstanding Staff Award: Carmalita Govan (pictured above, with Associate Dean Bill Tolone)
Staff Leadership Award: Caroline Kennedy
Staff Teamwork Award: Mary McLean
Dean's Award: Brian Peck and Mike Fresina
CLICK To view a Gallery of Images from the event (Credit: Kat Lawrence)