A Postcard from Liz Johnson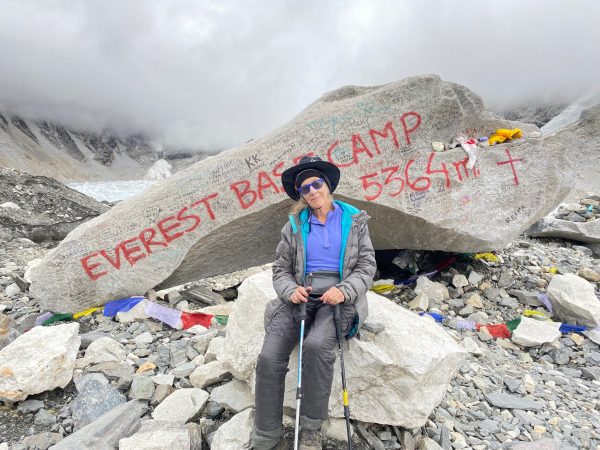 Dear CCI:
This year, instead of following my usual routine of teaching summer school, I opted for the exotic lands of Nepal. The purpose was to volunteer with an action-oriented organization, the Volunteers Initiative of Nepal (VIN). My duties included working with volunteers worldwide, developing an annual report, and visiting school children to assess facility needs. Getting to an actual school required rather strong legs. Many are nestled in the high Himalayans mountains. I got to be the lead teacher for 3-year-olds who were learning their first English words. The song, "I Have a Dog and his Name is Rags," seemed to win them over. We also played an energetic game of Duck Duck Goose.
After volunteering for 2 weeks in Katmandu, my adventure continued with a trek to Everest Base Camp. The rainy season came on quite strong, and early. The trek takes about 12 days and is made more difficult when the rainy season comes early. Along the way we saw yaks, donkeys, leeches, spiders the size of your hand, and lots of "rocks." We ran into a number of sherpas, who are like rock stars in Nepal. They regaled us with tales of their 30-plus Everest summits. Despite the rain, slick conditions, fog, intestinal challenges, and humming "Ain't No Mountain High Enough," we made it to Everest Base Camp at 17,600 feet. There, the rain finally stopped. We were soaked, but rewarded with a view that was majestic, awe-inspiring, and humbling. So as Hiddleston says, "You keep putting one foot in front of the other, and then one day you look back and you've climbed a mountain." So maybe it is really about conquering ourselves and taking time to appreciate the unlimited beauty in life and what we can savor from it.
All the best,