North State Endows CCI Scholarship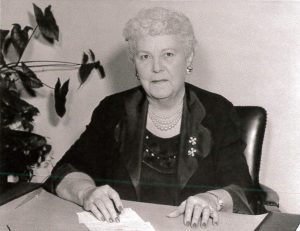 The North State Telephone Company (North State) is expanding its support of CCI with the announcement of a $50,000 endowed scholarship to benefit students who promote gender equality in computer science and technical fields.
Named in honor of Velva Hayden, who served as North State's CEO from 1952-73, the Velva Hayden Memorial Scholarship for Women will be awarded beginning in the Spring semester, 2019. To qualify, students must maintain a minimum GPA, demonstrate leadership in the school or community and a exhibit a commitment to gender equality and the inclusion of underrepresented populations in computer science and technology. Applicants will also be required to submit an essay highlighting those efforts and commitment.
As North State's CEO, Hayden was more than an executive. Pushing the business to become the industry leader it is today, she was a creative innovator and industry leader. More important, however, she was a trailblazer. One of the South's first female CEOs, her name belongs alongside Anna Bissell, Katharine Graham and Ursula Burns.
For most women in the late 19th and early 20th centuries, a successful home life was the fulfillment of the American dream. Hayden was an exception, however. She not only enjoyed a vibrant family life but joined her husband to create North State.
In the early years, Hayden filled a variety of managerial and executive roles at North State, but could also handle the workload of two phone operators when they were out sick.
After 54 years at North State's helm, Hayden's husband died in 1952. Having worked alongside him for decades, she was his logical successor. At that time, however, women rarely held positions in management, let alone served as presidents of large companies. Knowing Hayden was the best person to take over, North State's leadership would not be detered by conventional thinking about traditional gender roles.
Hayden's hands-on approach served the company well during her tenure, a 21-year period in which North State experienced unprecedented growth and technological advancement to become one of the largest regional telephone companies in the country.
Hayden remained President of the company until 1973 and died the next year. Today, her legacy remains strong.
Royster Tucker III, North State's current President and CEO is Hayden's great-grandson. "My great-grandmother was a pioneering corporate leader," Tucker says. "We at North State are thrilled to know that her legacy will help to inspire another generation of students studying at UNC Charlotte."
With this scholarship, Hayden's barrier-breaking impact will be felt at CCI – and beyond – for years to come.
For More News, Notes and Update, Follow US on Twitter @UNCC_CCI.