North State Establishes CCI Mentorship Program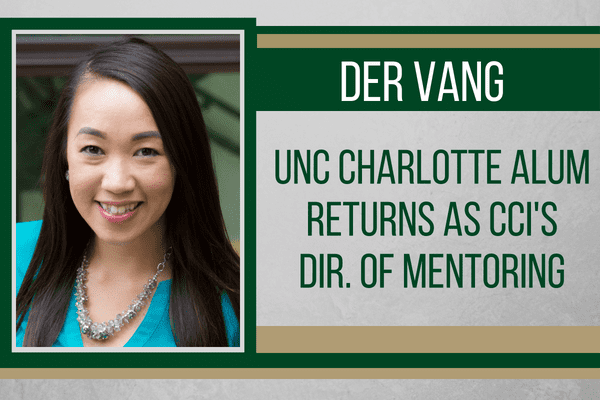 UNC Charlotte's College of Computing and Informatics (CCI) is excited to welcome many new faculty and staff to its rapidly growing program. Among the newcomers is Der Vang, a UNC Charlotte alum who has been named Director of Mentoring.
Funding for this position was earmarked as part of a generous gift from the North State Telephone Company (North State) to create the North State CCI Mentorship Program. Committed to supporting strong leaders and inspired by the memory of its former CEO Velva Hayden, North State's contribution will benefit CCI students by providing guidance on personal, social and academic matters. The job of a mentor is to serve as a role model, supporting all students in realizing their full potential as competent professionals and caring, responsible citizens.
Vang is well versed in the importance of both formal and informal mentors in higher education, especially for underrepresented populations. By mentoring students, Vang believes each will be better prepared to connect with professionals in a confident manner after graduation or during internships. "Today, successful mentoring needs to incorporate students' lived experiences, skills and identities," says Vang. "Without it, we are doing a disservice to the success of our students."
For the past four years, Vang served as the Multicultural Liaison Officer and Learning Community Coordinator within the Academic Advising and Student Services unit of the College of Liberal Arts and Sciences at Iowa State University. In that role, Vang collaborated with advisors to provide leadership for minority students.
Vang appreciates that CCI and North State possess the foresight required to identify and address the necessity of her new role. "What this demonstrates is a comprehensive commitment to student success, representation and innovation," she says.
Returning to her alma mater, Vang feels right at home. "As a graduate of UNC Charlotte," she says, "I know the positive impact that this University can have on a student's personal and career development."
-Lea Thompson ('20)
For more News, Notes and Updates, Follow Us on Twitter: @UNCC_CCI