Paper Earns Award in Cairo Conference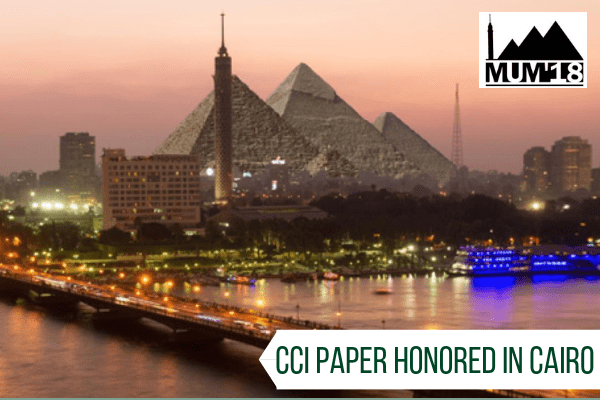 At the 17th International Conference on Mobile and Ubiquitous Multimedia (MUM), held this year in Cairo from November 25-28, a paper from a team at UNC Charlotte's College of Computing and Informatics (CCI) earned an Honorable Mention award.
MUM is an annual international conference, which provides a forum for presenting the latest research results on mobile and ubiquitous multimedia. The conference brings together experts from both academia and industry for a fruitful exchange of ideas and discussion on future challenges.
Successful paper submissions must be unique, previously unpublished and present significant empirical, theoretical or methodological advances in the field. Topics vary as the industry evolves, but some past papers have covered: • Augmented, Mixed and Virtual Reality systems and applications • Architectures, systems, algorithms and other constructions tackling relevant technical challenges • Case studies, field trials, or user experience evaluations of new applications and services • Conceptualizations and theorizations of the field • Context-aware and location-based mobile and ubiquitous services • Metrics and measures for evaluating and testing mobile and ubiquitous systems The paper presented by Associate Professor Mohamed Shehab, Ph.D. candidate Nazmus Sakib Miazi and Carlos Alberto Campos Castro (a visiting student from the American University – Nicaragua), was titled, "Mobile Users as Advertisers: User Perceptions of Product Sensitivity, Exposure, and Public Influence." As advertisers, marketers and influencers explore the power and impact of mobile, shared messaging, Shehab and his team examined the efficacy and ethics of using individual mobile users as localized advertisers, essentially broadcasting advertisements to other mobile users nearby via WiFi and BLE Beacons. "The proposed approach enables users (shoppers) to advertise content to other users who are in their proximity," says Shehab. "The app developed was used to conduct a user study to investigate their privacy preferences towards advertisements they generate and what information they are willing to share with the public." The paper explores user perceptions toward sharing personal information along with advertisements by conducting a user study to investigate two key factors: the sensitivity level of the product, and the exposure level to the public. Furthermore, the paper considers the effect of public influence on the consumer behavior. Aware that this form of mobile advertising brings with it a number of privacy concerns, Shehab says, "For the user, several privacy issues might arise. For example, when creating advertisements users are allowed to share information about themselves. In addition to implications for the user-advertiser, because sharing is based on proximity, data can be gathered on the location of both the user-advertiser and the recipient. Much will depend on the features eventually incorporated into the app." For Shehab and his team, the award is validation that the community appreciates the value and potential of their work. The recognition also gives them a platform and momentum for further study. "We are investigating the proposed framework further and we are planning a more involved user study that would investigate the social influence aspect of this work," says Shehab. We may also apply for an ICORP grant to investigate the commercial viability of this work." For more on MUM, CLICK. For more News, Notes and Updates, Follow Us on Twitter @UNCC_CCI.