Schreiber Wins International Education Student Award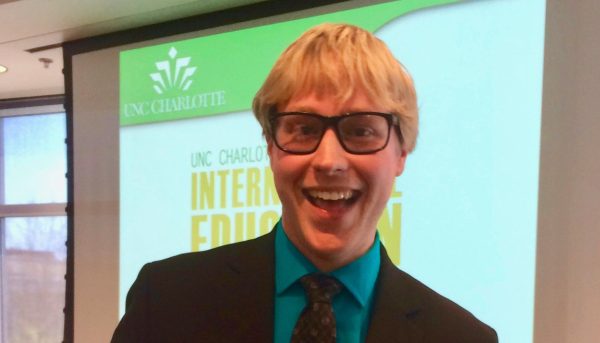 April 19, 2018 – In an on-campus celebration, CCI Computer Science graduating senior, Scott Schreiber received the distinguished International Education Student Award. An Asheville native who also studied abroad in Japan, Schreiber is quick to laud the diversity of his UNC Charlotte education for expanding his horizons and social awareness.
Cultivating interests beyond the requirements of his computer science major, Schreiber will not only leave UNC Charlotte with a BS in Computer Science, but also a minor in Japanese and invaluable experience gained volunteering in our Office of International Programs.
In his comments at the ceremony, Schreiber credited the university's support of interdisciplinary studies for allowing him to study abroad and pursue passions beyond his area of concentration.
For his Office of International Education Peer Advisors biography, Schreiber wrote, "There are many reasons to study abroad. But one of the most important reasons, in my opinion, is that it gives you a lot of confidence and independence. Many people spend their whole lives inside their community bubble, and never get a chance to take a step out of it and experience something they are not comfortable with. The act of studying abroad on its own proves to the individual that they are capable of going to a faraway country, surviving there, and most of all adapting to a culture that is not their own."
The CCI family congratulates Schreiber and wishes him well in his future endeavors.
For more News, Notes and Updates, Follow CCI on Twitter @UNCC_CCI