Software and Information Systems Chair invited to Present at Sander Series in Toronto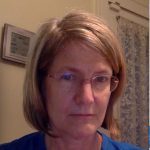 Dr. Mary Lou Maher, the Chair of Software and Information Systems, is presenting her latest book at the Toronto User Experience (TUX) Sander Series. The Sanders Series invites distinguished Human-Computer Interaction (HCI) visionaries from around the world to present their research to the Toronto User Experience. Their lectures are recorded and posted online. As part of the visit, Dr. Maher will meet with industry partners, including AutoDesk, and selected faculty at University of Toronto, University of Waterloo, and Ryerson University.
Dr. Maher's presentation, 'Designing for Gesture and Tangible Interaction,' is based on her recent book published by Morgan & Claypool. This book describes embodied gesture and tangible interaction design with a focus on design methods and cognitive impact.
Dr. Maher's lecture will take place on Feb. 13, 2018 at 12:30 p.m.