Spring 2019 ICP Showcase Gallery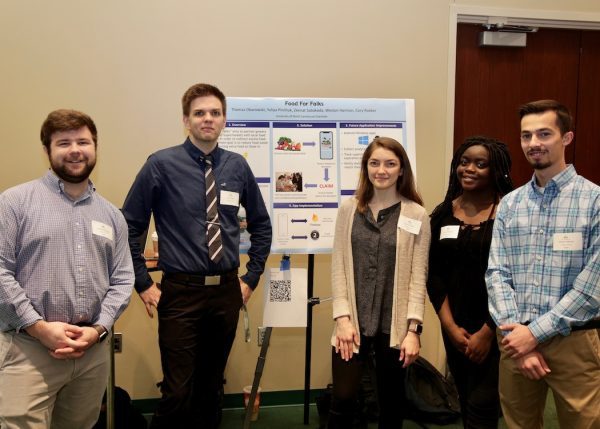 On April 30th, CCI Business Partners, faculty, staff and administration gathered in the Barnhardt Student Activity Center Salons for the presentation of more than 50 Innovative Computing Projects (ICP).
Tackling real-world problems with the creative application of emerging technologies and fresh perspectives, student teams worked directly with CCI Business Partners, mentors and advisors on topics as varied as automoated image cropping based on aesthetics and continuous touch-based authentication to ways to imrpove the university's SOAR program.
Recognized for having the top ICP presentation – and each receiving a $50 Amazon gift card – were students Weston Harmon, Thomas Obaraowski, Yuliya Pinchuk, Cory Rooker and Zeenat Sabakada (pictured) for their project, Food for Folks, which helps redirect unsold food to feed the hungry and reduce waste.
For all of its participants and partners, the ICP Showcase was a success and will continue to grow as students push beyond classroom theory and explore the practical application of what they are studying.
Check out the PHOTO GALLERY.