Sun and Fun-ding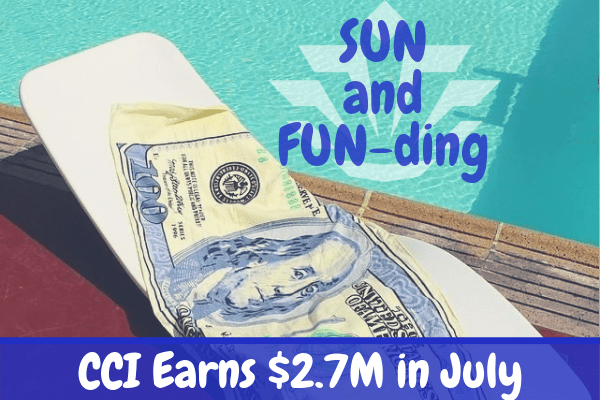 The numbers have been confirmed. During a sweltering July, the University of North Carolina at Charlotte's College of Computing and Informatics (CCI) generated 58% of university's total research funding for the month. The sum of grants earned by CCI totaled $2.7 million.
CCI's status as an innovative global research university is one of many reasons it is the fastest-growing college in the UNC System.
Congratulations to all of the grant recipients – and the entire CCI community.
Ann Loraine – $224,613
Linking Integrated Genome Browser and CyVerse
Sponsor: National Institutes of Health (NIH)
Ehab Al-Shaer, Bei-Tseng Chu – $9,400
Collaborative Research: IUCRC Center for Configuration Analytics and Automation
Sponsor: National Science Foundation (NSF)
Jennifer Weller – $167,332
IPA- Program Manager for the Advances in Biological Informatics Program in the BIO Division of the National Science Foundation
Sponsor: National Science Foundation (NSF)
John Gero – $349,849
Collaborative Research: Proofing A Basic Systems Engineering Model Through Empirically-Based Cognitive Testing
Sponsor: National Science Foundation (NSF)
Mary Maher, Mohsen Dorodchi, Wenwen Dou, Xi Niu – $298,486
EAGER: An Interactive Learning Analytics Framework based on a Novel Student Sequence Model for understanding students, retention, and time to graduation
Sponsor: National Science Foundation (NSF)
Mary Maher, Celine Latulipe, Tonya Frevert – $250,689
IUSE/PFE:RED: The Connected Learner: Design Patterns for Transforming Computing and Informatics Education
Sponsor: National Science Foundation (NSF)
Min Shin – $472,932
Collaborative Research: ABI Development: A User-Friendly Tool for Highly Accurate Video Tracking
Sponsor: National Science Foundation (NSF)
Way Sung – $670,211
The Evolution and Reprogramming of DNA Replication Fidelity
Sponsor: National Science Foundation (NSF)
Wei Sha – $26,547
Protein Markers to Islet Autoimmunity and Type 1 Diabetes Progression
Sponsors: University of North Carolina at Greensboro (UNCG), National Institutes of Health (NIH)
Yaorong Ge – $214,862
Developing Knowledge Models to Enable Rapid Learning in Radiation Therapy
Sponsors: Duke University Health System, National Institutes of Health (NIH)
-Lea Thompson ('20)
For more News, Notes and Updates, Follow Us on Twitter @UNCC_CCI