Twenty Years at the Head of the Class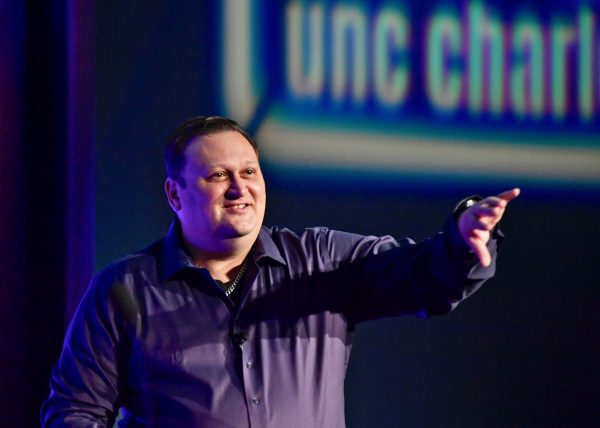 UNC Charlotte's College of Computing and Informatics (CCI) hosted more than 700 attendees at its 20th Annual Cybersecurity Symposium on October 9, 2019.
As a relatively young institution, UNC Charlotte cannot often claim to have been at the forefront of an emerging industry, but because of a shared vision for the future, UNC Charlotte and CCI established its information security presence long before "cybersecurity" entered the public lexicon.
Information security was once thought to be a concern only for large corporations. No longer. Today, technology is omnipresent, touching every part of our lives. As such, it is inherently insecure and cybersecurity should be top-of-mind for everyone.
Protecting everything from our personal information and finances to our nation's elections and medical devices requires the expertise cultivated in CCI's classrooms and on display at the symposium.
"The first symposium, if memory serves, had fewer than 100 attendees," says Pete Murphy, symposium founder and CareSource IT Advisory Executive. "Fast forward 20 years, and it is at maximum capacity and it just keeps getting better. The topics being covered are fresh and insightful, delivering a level of knowledge that you really can't find anywhere else."
Unique among cybersecurity events, CCI's symposium is not held at a conference or convention center, but on UNC Charlotte's campus. Bringing together industry professionals, academics and students to discuss best practices, past successes and future challenges, as well as offering the opportunity to network and recruit, the symposium has become a must-attend annual event.
"The symposium brings a couple of special things to the table," says Sam Phillips, symposium founder and Head of Enterprise Security and Architecture at Wells Fargo. "It allows us to bring in speakers that we normally wouldn't get to see in the Charlotte area, but the real benefit is the interaction between people in the industry and the student population."
Rich Baich, AIG's Senior Vice President and Chief Information Security Officer, says, "I go to symposiums all around the world and the one here at UNC Charlotte always brings in some of the best speakers, but the most gratifying piece of this is the ability to interact with the students."
This year's event opened with a welcome from CCI Professor and Symposium co-chair, Dr. Heather Lipford, followed by an address from CCI Dean, Dr. Fatma Mili, in which she lauded her predecessors' foresight to not only establish CCI 20 years ago, but choose cybersecurity as one of its first areas of concentration.
The eight symposium founders, all in attendance, were also recognized and honored before the premiere of a video celebrating the history of the program and symposium.
(The video, which can be viewed HERE, will also air on UNCC TV each night at 10pm until October 19)
Throughout the day, more than 40 speakers were featured – including nine keynotes – covering an array of topics from navigating the Dark Web and end-to-end trust for smart cities to threat-centric security operations and effective cybersecurity analytics.
During a midday keynote, Christopher Hadnagy (pictured), professional hacker and Founder of social-engineer.com, admitted getting hacked by a phishing email which appeared to come from what he calls his drug of choice: Amazon Prime. The levity of his confession was appreciated by attendees, but the power of his message resonated long after the laughter faded: everyone and everything can be hacked.
According to a 2018 Harris Poll, nearly 60 million Americans have been affected by identity theft and it is estimated that 33 billion personal records will be stolen by cybercriminals in 2023 – up from 12 billion in 2018.
"We have to understand that the miscreants target everybody," says Tom Bartolomeo, symposium founder and Head of Cybersecurity Defense and Monitoring at Wells Fargo. "From governments and corporations to banks and all of us as consumers; they are attacking us every day. We need to be aware. We must be able to take advantage of all this wonderful technology at our fingertips, but need to do it in a way that we are making good decisions and protecting our information."
As a necessary response to a threat-saturated world, CCI's Cybersecurity Symposium is more than a gathering of the most influential experts in the field, it is also a talent generator for an industry expected to see 32% job growth in the next decade.
"That is what's great about having [the symposium] here at the university," said Mischel Kwon, MKACyber CEO. "We really want to influence and attract the next set of exployees coming out of the UNCC program. We want to be their first option."
With 20 years of history, credibility and influence established, CCI's program and symposium are poised to continue sitting at the head of the class for another 20 years.
Note: Several media outlets, understanding the value of stories about cybersecurity and interested in UNC Charlotte's legacy in the field, covered the symposium. To view the reports, click on the links below.
Spectrum News (link unavailable)
Update: Booz Allen Hamilton hosted an all-day Capture the Flag competition for attendees. Pictured below, from Left to Right: Stuart Baghan, Booz Allen Hamilton; Will Alexander, 3rd Place; Justin Warner, 2nd Place; Trevon Williams, 1st Place and Tom Georgen, Booz Allen Hamilton.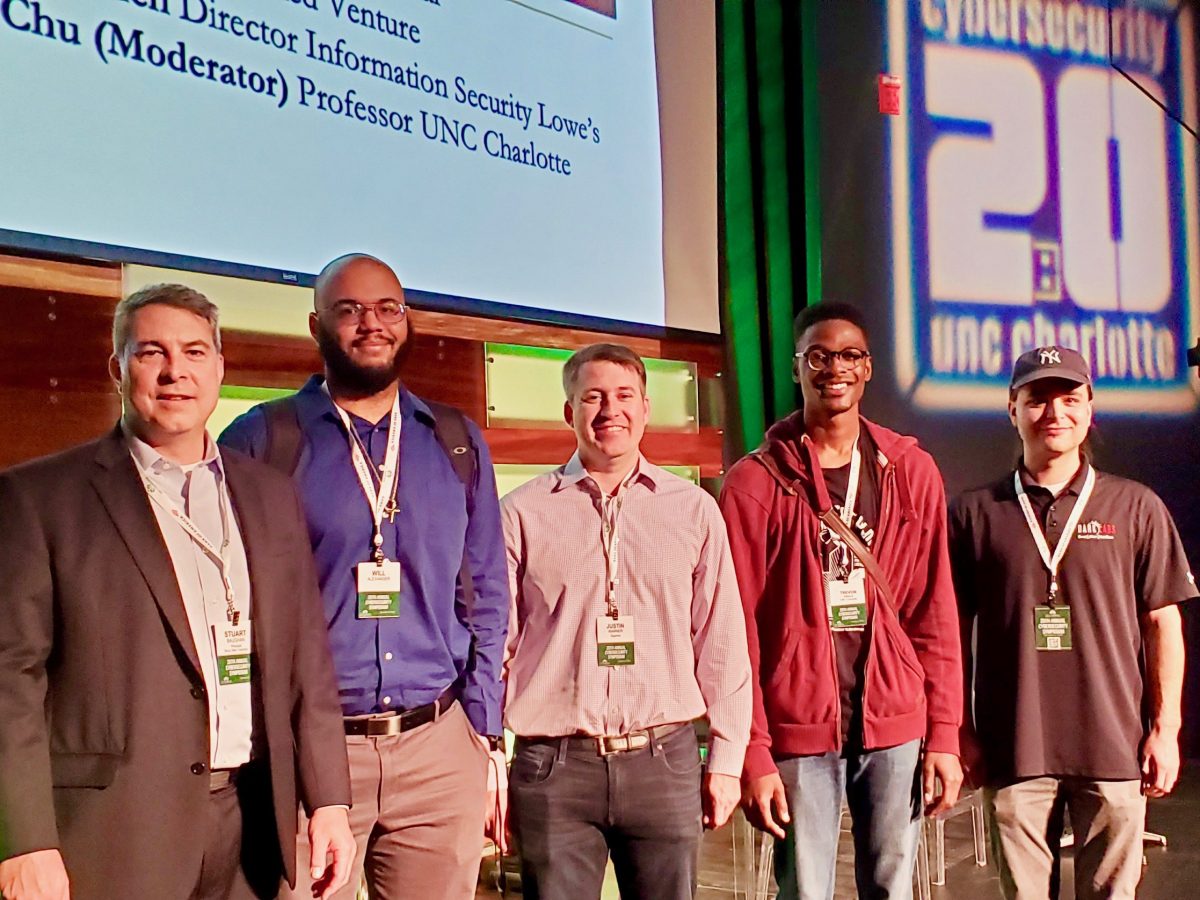 CLICK to View a Photo Gallery from the 20th Annual Cybersecurity Symposium
For more News, Notes and Updates, Follow Us on Twitter.
Photo Credit: Kat Lawrence