Two-Percenters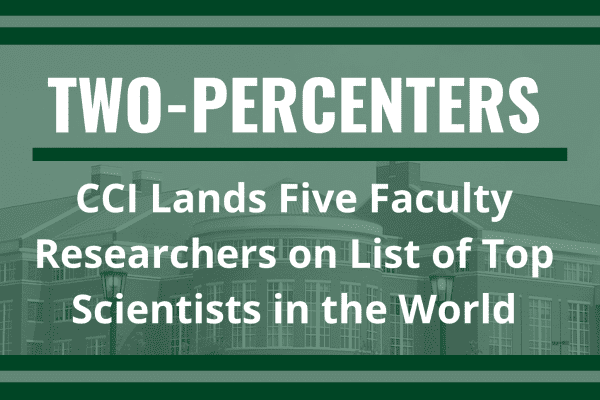 In a recent Stanford University study, five faculty researchers from UNC Charlotte's College of Computing and Informatics (CCI) were ranked among the top two-percent of scientists in the world.
The report, first published in the prestigious PLOS Biology Journal, evaluated and ranked approximately seven million scientists across more than 20 disciplines from 1965-2019. Based on a series of metrics, including the career-long citation impact of their published research, the database is among the most comprehensive global faculty-evaluation resources ever produced.
In all, 41 UNC Charlotte faculty are featured, from colleges and departments across campus.
Professor Mary Lou Maher, one of the CCI faculty highlighted in the study, reacted and said, "I think the recognition is awesome! My career is notable for its focus on creativity in computing, which is not a mainstream topic among CS researchers. Perhaps my success will encourage others who do not fit the stereotype to aspire to leadership and high performance."
"I could not be more proud than I am of our faculty's clout and the relevance of their Impactful research," said CCI Dean Fatma Mili. "In our profession, where recognition from peers is paramount, having so many of our current and former faculty in the top two percent of a world ranking that includes citations is a tremendous honor."
The Stanford study can be found HERE and the full list HERE.
Below are profiles and the numbers behind CCI's two-percenters:
Jiangping Fan
Number of papers: 256
1993-2020
Subject Field: Artificial Intelligence and Image Processing
Rank within Field: 4099
Total Authors within Field: 215,114
Percentile within Field: 1.9%
Fan's research interests include automated deep fake detection, large-scale plant species identification and statistical machine learning for large-scale visual recognition.
John Gero
Number of papers: 354
1967-2020
Subject Field: Design Practice and Management
Rank within Field: 6
Total Authors within Field: 8,617
Percentile within Field: .07%
Gero's research is based on the notion that designing is itself a meta-discipline practiced in multiple disciplines such as software design, hardware design, engineering, architecture, and industrial design. His research in design as a meta-discipline commenced with the development of models informed by the formal languages of optimization, artificial intelligence and computational constructs.
Mary Lou Maher
Number of papers: 171
1983-2020
Subject Field: Artificial Intelligence and Image Processing
Rank within Field: 1,762
Total Authors within Field: 215,114
Percentile within Field: .8%
Maher's research interests span a broad area of design and computing; specifically the study and development of novel interaction and communications technology, and models of design and creativity. Her research draws on and contributes to human-computer interaction, intelligent systems, computer-supported collaborative work, design science, and computational creativity.
William Ribarsky
Number of papers: 166
1975-2018
Subject Field: Software Engineering
Rank within Field: 363
Total Authors within Field: 21,211
Percentile within Field: .01%
Ribarsky, who died on February 23, 2017, was the Bank of America Endowed Chair in Information Technology at CCI (2004-15) and founding director of the Charlotte Visualization Center. From 2008-14, Ribarsky was chair of CCI's Computer Science Department. In 2020, CCI honored Ribarsky and his legacy with the dedication of the William Ribarsky Center for Visual Analytics.
Ehab Al-Shaer
Number of papers: 158
1997-2020
Subject Field: Networking and Telecommunications
Rank within Field: 1,460
Total Authors within Field: 161,169
Percentile within Field: .009%
Al-Shaer, who left UNC Charlotte for Carnegie-Mellon in 2020, lists his primary research areas as network security, cybersecurity analytics and automation, intrusion and fault diagnosis, and network resilience.