UNC Charlotte Professor Earns Industry Honor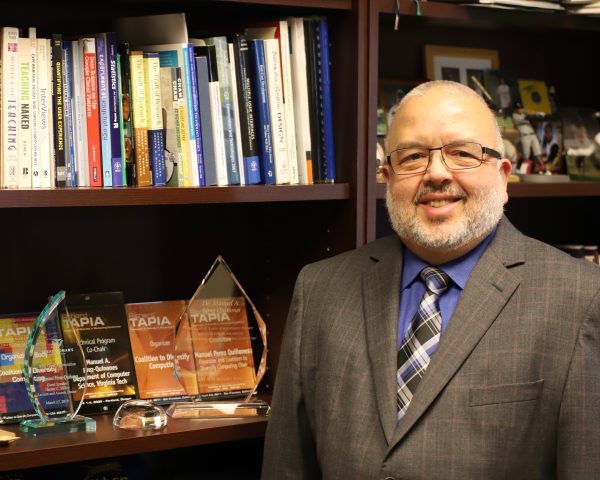 UNC Charlotte College of Computing and Informatics (CCI) professor, Dr. Manuel Perez Quinones was named a Distinguished Member by the Association for Computing Machinery (ACM) for his outstanding contributions to computing education. He is among just nine honorees being recognized in the category (see list below).
"Professionally, this award acknowledges that the work I have done over the last two decades has been noticed," Perez Quinones says. "It is rewarding that I was nominated by other computing professionals that are not just my coworkers, but people that have seen what I have done and thought, 'he's doing good things.'"
Perez Quinones was surprised when he heard he had been selected. "I don't do the work I do for recognition," he says. "But one way to have your work be impactful is for it to be recognized. It also means that back in 1981, when I changed my major from Accounting to Computer Science, it was probably the right decision."
CCI Dean, Dr. Fatma Mili, says, "Our success in delivering our mission to our students and our community is visible every day, in every student, in every graduate, in every alumnus. Our success beyond our city and state is evidenced by the many accolades that our faculty receive from their peers. Being named an ACM Distinguished Member is a great honor and well deserved. Recently, he has also been recognized by the Computing Research Association (CRA), and the National Academies of Science, Engineering and Medicine."
The 2019 ACM Distinguished Members work at leading universities, corporations and research institutions around the world, and hail from Canada, China, Germany, Qatar, Singapore, Taiwan, the United Kingdom and the United States. These innovators have made contributions in a wide range of technical areas including artificial intelligence, human-computer interaction, computer engineering, computer science education, cybersecurity, graphics, and networking.
"Each year it is our honor to select a new class of Distinguished Members," explains ACM President Cherri M. Pancake. "Our overarching goal is to build a community wherein computing professionals can grow professionally and, in turn, contribute to the field and the broader society. We are delighted to recognize these individuals for their contributions to computing, and we hope that the careers of the 2019 ACM Distinguished Members will continue to prosper through their participation with ACM."
ACM is the largest organization of computing professionals in the world and plays a critical role in not only shaping the development of technology and education, but strives to ensure that computing is used to improve lives.
For Perez Quinones, its mission is personal.
"I am proud that ACM is making strides to make the organization more diverse and proud to serve on the board of one of the ACM Special Interest Groups (Computer Science Education, SIGCSE)," he says. "As a minority [Puerto Rican and Latinx] in computing, most of the time I am the only one of my group in my department."
According to the 2018 Taulbee survey, there are 47 Hispanic Full Professors in the US/Canada (in Phd granting institutions), 2.1% of all full professors.
"I am one of just 47," he says. "So, with any award, recognition or promotion I get, I am hopeful it will improve the acceptance of more Latinx in computing."
2019 ACM Distinguished Members For Outstanding Educational Contributions to Computing:
Valerie B. Barr – Mount Holyoke College
Kim B. Bruce – Pomona College
Thomas Cortina – Carnegie Mellon University
Andrea Danyluk – Williams College
Manuel Perez Quinones – University of North Carolina at Charlotte
Mehran Sahami – Stanford University
Amber Settle – DePaul University
Charles C. Weems Jr. – University of Massachusetts Amherst
Jodi L. Tims – Northeastern University
For More News, Notes and Updates, Follow Us on TWITTER.