Winning Big at Queen City Hackathon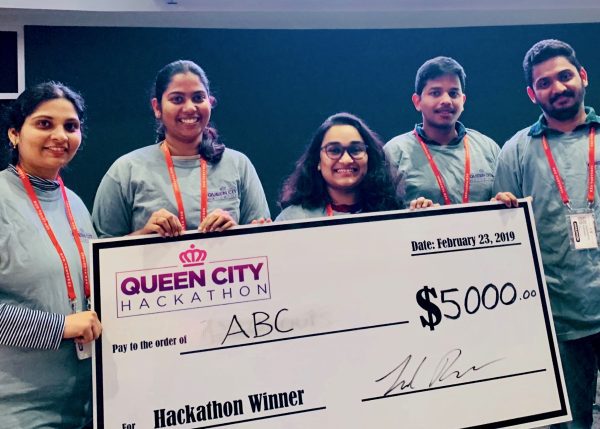 On a recent rainy February weekend, several students representing UNC Charlotte's College of Computing and Informatics (CCI) participated in the Queen City Hackathon and two CCI squads came away with top prizes.
Featuring nearly 150 participants, Charlotte's largest data science and machine learning hackathon is for those who believe in the power of data analytics to improve the lives of people in the city and beyond. Though winners are rewarded, the event is more about collaboration and socially-relevant innovation than competition.
Team ABC earned first place – and $5,000. Comprised of CCI's Jayachandra reddy Kamineni, Surya Pavan Malireddy, Shama Zabeen Shaik, Pragna Yelamanchili and Bandhavi Bodduluri, the team used the opportunity to examine an innovative approach to solving a growing substance abuse epidemic.
In a 24-hour span, the team analyzed data and built a predictive model, the results of which suggest the government should take a more aggressive approach to regulating prescription drugs and provide better education to the public regarding opioid abuse and its impact on current and future generations.
"Our model was able to accurately predict whether patients will complete treatment, as well as their length of stay," says Malireddy. "What we have is a Regression and Classification problem."
Organized by the Analytics and Big Data Society, this year's Queen City Hackathon was held at Red Ventures (Fort Mill, SC) and featured an array of industry sponsors, including Red ventures, Syntelli Solutions, DataRobot, Snowflake Computing and TIBCO.
"We are extremely thankful to CCI's Dr. Jake Lee for advising us and also to the ABD Society and the event's sponsors," says Malireddy, "for giving us the opportunity to showcase our Data Science and Machine Learning skill."
With the win, Team ABC is committed to staying together to work and grow with an eye on contributing to a solution to the country's opioid epidemic. "Winning this competition gives us a hope that our proposed model could help us develop a solution," Malireddy says. "We are looking forward to future opportunities of this kind to get our dream fulfilled."
Another squad from CCI, led by Poojan Patel, Namra Dasai, Divya Patel and Narenda Kumar Vankayala earned second place and took home $3,000.
For more on the Queen City Hackathon and ABD Society, CLICK
For More News, Notes and Updates, Follow CCI on Twitter.