CCI, State's Fastest-Growing and Most Diverse Computer Science Program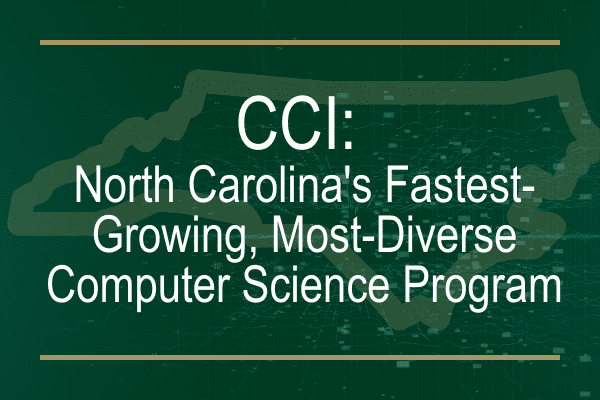 UNC Charlotte Chancellor Emeritus Jim Woodward foresaw a world where computing would touch every aspect of our lives. In 2000, he established the College of Computing and Informatics (CCI), separate from Engineering, where the program originated.
"I am consistently inspired by the genesis of UNC Charlotte and CCI," said CCI Dean Fatma Mili, who joined the college in August 2017 and was named NCTech's Tech Educator of the Year in 2020. "Our ambitious past drives us forward, keeping us focused on our promise to have a positive impact on the future."
SKYROCKETING ENROLLMENT
Between 2017 and 2021, domestic student enrollment for CCI graduate programs grew by 60%. In fact, since 2000, CCI's overall student population has increased by 400%, making it the fastest-growing college in the UNC System.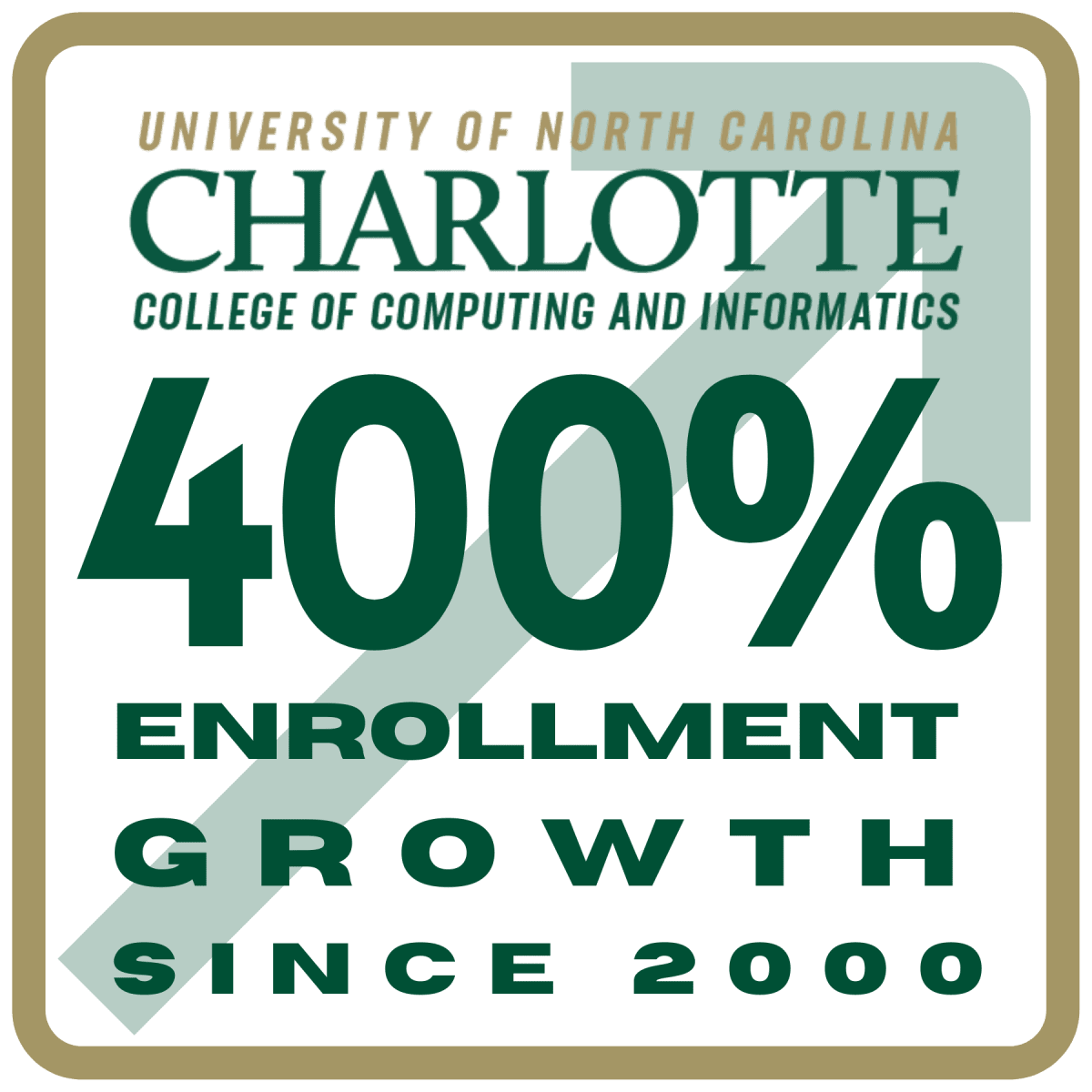 Particularly notable is the college's growth during a period of global unrest and sagging higher education enrollment. The National Student Clearinghouse Research Center (NSCRC) reported that overall college enrollment fell to 16.9 million students for the 2021 spring semester, down more than 600,000 students from the previous year. That one-year decline of 3.5% is the largest spring semester enrollment decrease since 2011. For the same period, CCI increased its undergraduate student population to 2,260, its largest spring semester enrollment in history.
Even before COVID-19 and the threat of international travel restrictions, CCI was working to increase its domestic student population, particularly for graduate programs. Among its efforts, CCI hosted a series of open houses for prospective graduate students in the region, increased opportunities and scheduling flexibility for working professionals, and launched a regional advertising campaign that earned three national Educational Advertising Awards.
"It is hard sometimes to resist the temptation to think in semesters and calendar years; we have made every effort to think in terms of cohorts and generations instead," said Mili. "Many of the outcomes we are seeing today are the result of seeds sown years ago. Similarly, our main focus is on fulfilling our enduring values and sowing the seeds for current and future cohorts and generations. During volatile times, our values and strategic mission give us stability. Our openness, awareness and flexibility give us the tools to adapt and adjust."
Gains among CCI's undergraduate population between 2017 and 2021:
+37% – Enrollment among Black, Indigenous and People of Color
+52% – Enrollment of women
+60% – Number of degrees awarded
+46% – Four-year graduation rate increase
+86% – Two-year graduation rate increase for transfer students
+64% – Increase in available scholarships available scholarships
+100% – Increase in overall scholarship value
DIVERSITY AS A CORE VALUE
CCI's commitment to inclusion and diversity begins with its vision: "A World with Equity in Computing and Humanity in Technology." As its enrollment has multiplied over the past decade, CCI's effort to do so strategically — making a positive impact on the democracy of technology — has not only made it the number-one producer of minority computer science graduates in the region but also earned the college praise as an example of what is possible when dedication to inclusion is more than an initiative.
In 2018, CCI earned the CMD-IT University Award for Retention of Minorities and Students with Disabilities in Computer Science by The Center for Minorities and People with Disabilities in IT.
"Our major really is a microcosm of our society," says software and information systems professor Manuel Perez-Quinones, whose commitment to diversifying computing has earned him several national awards, including the Richard A. Tapia Achievement Award (2017). "Shifts in our population and demographics are happening in society, and we see them reflected in our major. I hope computing can have a tremendous impact on what transpires in terms of integration and social mobility, because of the importance of computing in everything we do."
In terms of diversity and inclusion, between 2017 and 2021:
Enrollment for Black, Indigenous and People of color grew by 38% for undergraduates, and 56% for graduate students
Enrollment among women increased 52%
Graduates included 1,161 women, 216 Hispanic students and 341 Black students
"We really don't think about it as diversity," said Mili. "It is a part of our accountability to the community we serve. We are accountable for supporting the success of all current and potential students. When any category of students is missing or underrepresented among our students and graduates, it is on us to reflect on the reasons and address them. Equity is not a separate responsibility; it is an integral component of our effectiveness."
A PARTNERSHIP WITH EMPLOYERS
Mili believes that the success of CCI is the result of close collaboration and partnership with employers in the community, reflected in part in the number of businesses created by and led by CCI and UNC Charlotte alumni.
"Business leaders, many of whom are members of our Dean's Advisory Board, have a voice in the shaping of CCI's curricula; they hire our students and offer internships, and they are the source of many scholarships that enable the success of our students," she said. "These relationships are part of what make CCI and UNC Charlotte a great place to be.
"We are fully embraced by a community that understands our success is their success."
To learn more about CCI, visit cci.charlotte.edu.