Master's in Bioinformatics
What is Bioinformatics?
A unique master's degree merging the biological sciences and computer technology, the M.S. in Bioinformatics is an interdisciplinary program at the intersection of the disciplines of Biology, Chemistry, Mathematics and Statistics, Computing and Informatics, and Engineering. It is expected that students entering the program will have completed an undergraduate major in either a life science or a quantitative discipline. The degree requires additional training and demonstrated competence in both life sciences and scientific programming. The M.S. program is structured to provide students with the skills and knowledge to develop, evaluate, and deploy bioinformatics and computational biology applications. The program is designed to prepare students for employment in the biotechnology sector, where the need for knowledgeable life scientists with quantitative and computational skills has exploded in the past decade.
Current Key Areas of Research in the Bioinformatics and Genomics Department include:
Metabolomics
Genomics
Genome Sequencing
Biophysics
Computational Modeling
Phylogenetic
Software Development
Systems Biology
Evolutionary Genomics​
Why Pursue a Master's in Bioinformatics?
Students seeking a degree in Bioinformatics want to be involved at the forefront of 21st century biological sciences. Students with undergraduate majors in either the life sciences or computing fields are encouraged to apply. At UNC Charlotte, we instill research, writing and critical thinking skills by teaching scholarly inquiry and research methods at a high level. Students will take courses from both computational and biological fields to develop their skills in the development, application and interpretation of bioinformatics. In addition, students complete an industry driven internship to apply their classroom skills in the workplace.
Want to Get a Jump-Start on Your Master's in Bioinformatics?
Exceptional undergraduate students at UNC Charlotte may be accepted into the bioinformatics graduate program and begin work toward their graduate degree before completion of the baccalaureate degree. An applicant may be accepted at any time after completion of 75 or more hours of undergraduate course work, although it is expected that close to 90 hours of undergraduate course work will have been earned by the time the first graduate course is taken. These students will have provisional acceptance status in the graduate program, pending the award of the baccalaureate degree. Students admitted into an early-entry program pay only undergraduate tuition and fees for all courses (graduate and undergraduate) for which they register. Click here to learn more about how to being your graduate degree early.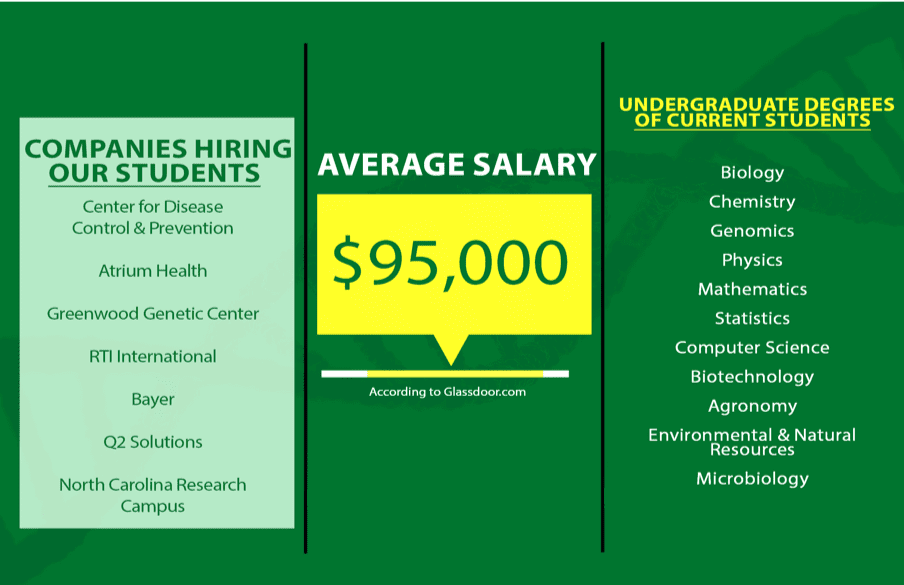 "Every faculty member in the department goes out of their way to see students succeed. The concepts we learn in each class are quickly put into practice to solve real world scenarios. It doesn't matter if it is biology, statistics, chemistry, or computer science… all subjects are well covered and interwoven to give us the best possible academic formation."

– Juan Bolanos, M.S. Bioinformatics Student