Programs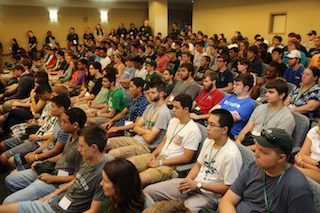 The College of Computing and informatics offers a B.S. and a B.A. in Computer Science as well as an undergraduate certificate in Game Design. In addition, the College offers an Honors program and an Early Entry program.
The B.S. in Computer Science offers seven different concentrations. The degree has 25 hours of core Computer Science courses, a series of courses to choose from as major electives, and 9-15 semester hours of related work in a discipline outside computer science, possibly forming a minor in that discipline area. The seven concentrations include:
AI, Robotics, & Gaming
Bioinformatics
Cyber Security
Data Science
Software Engineering
Software Systems & Networks
Web & Mobile Applications
The B.A. in Computer Science offers three (3) concentrations and it is less structured than the B.S. providing the student more flexibility in how to combine the B.A. with other academic programs of study. The B.A. includes a core of 5 courses that are generally prerequisites for most upper level courses in computing. The three concentrations include:
Human-Computer Interaction
Information Technology
Financial Services Informatics
The Undergraduate Certificate in Game Design provides undergraduate students with the opportunity to reach a demonstrated level of competence in game design and development. Course-work towards the certificate can be used for credit towards the Bachelor's degree in Computer Science. However, its primary purpose is to provide a well-defined target for students who want to advance their knowledge of modern game design and development techniques and work with a variety of professionals, from artists to writers, to being the vision for an interactive game or media product to life. The certificate may be pursued concurrently with any of the undergraduate degree programs at UNC Charlotte.
The Early Entry Program is a special, fast-track program for highly motivated undergraduate students who desire to pursue graduate studies at an accelerated pace. This program provides a student an opportunity to earn two degrees (Bachelor's and a Master's) in 5 years. By taking certain graduate courses in their senior year in lieu of the corresponding undergraduate courses, a student can obtain his or her B.A. or B.S. degree and then, with an additional year of graduate studies, obtain an M.S. degree in Information Technology or Cybersecurity. Successful completion of this program may cut a year off the typical length in time required to obtain an M.S. degree from UNC Charlotte.
The Honors Program in the College of Computing and Informatics provides creative, imaginative, and exceptional undergraduate CCI students the opportunity to develop their potential through smaller classes and a more challenging curriculum. CCI Honors students complete a tailored experiential learning curriculum that provides hands-on training that is not typically provided in the classroom. This training culminates in a senior honors project that can be tailored to a variety of interests, including entrepreneurship, research, and industry.